1Password is one of the most popular password managers on the market, known for its extensive security features, admin controls, and reliability. However, some users may be searching for an alternative for various reasons, including price, missing features, and personal preferences.
Table of Contents
Why You Might Need a 1Password Alternative
1Password is one of the most popular password managers on the market, known for its extensive security features, admin controls, and reliability. However, some users may be searching for an alternative for various reasons, including price, missing features, and personal preferences.
Price can be a major factor when considering alternatives to 1Password. While 1Password offers a free trial, the full version is expensive relative to the competition, especially for single users or teams with over 10 users who need to be on the business plan. Users may search for a cheaper alternative that offers similar features and security.
Personal preferences can also explain why someone may seek an alternative to 1Password. Some users may prefer a different user interface or a password manager that focuses on simplicity or greater customizability.
This article will look at some popular alternatives that may better fit your password management needs.
What to Look for in 1Password Alternatives
1Password offers trusted security and great features for businesses. When selecting an alternative, you want to make sure it has the features you need at a lower price point without sacrificing security.
User-friendly interface and effortless setup

Robust password generator

Ability to sync across multiple devices

Automatic form-filling capabilities

Ability to share passwords securely

Advanced security features like built-in audit tools and two-factor authentication
Now, let's compare the top 1Password alternatives.
#1. TeamPassword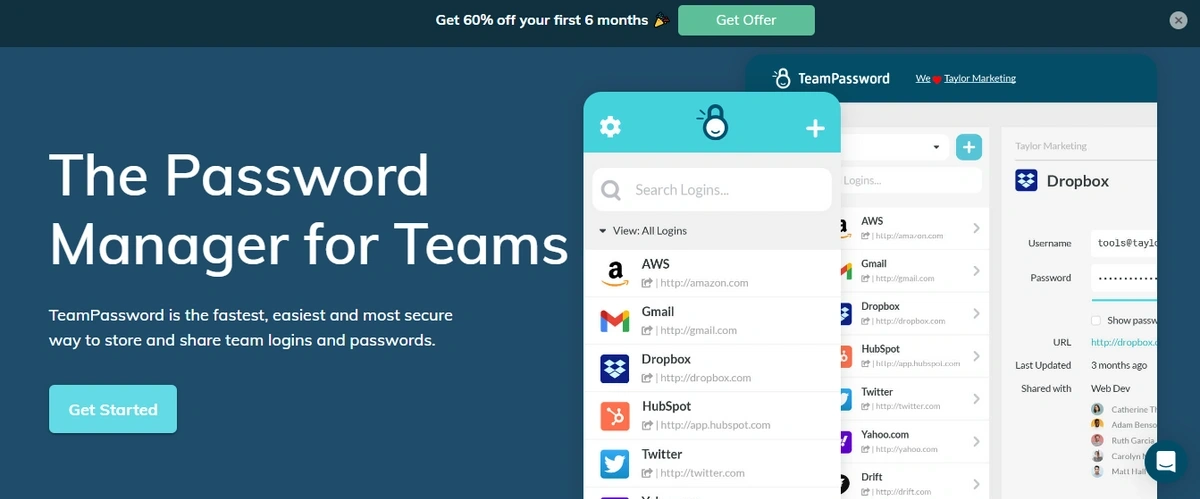 TeamPassword is an ideal solution for teams working together, such as agencies handling multiple client passwords or small businesses looking to improve their security across various departments.
One standout feature of TeamPassword is its user-friendly interface, designed to facilitate easy navigation. This enhances your daily workflow, simplifies onboarding for new team members, and ultimately helps to streamline password management.
TeamPassword is a streamlined tool, providing you with the essential features you need and nothing more. Additionally, it is a highly affordable solution, with yearly plans starting at just $1.66 per user per month for the first six months. After this initial period, the price increases to $4.16 per month per user, with extra discounts available depending on the size of your plan.
TeamPassword Features
Accessible on all devices: Log in once to access your tools and services from any device.

Effortless adoption: The user-friendly interface allows you to utilize all features without any hassle.

Secure password sharing: Share passwords with team members or groups with ease and revoke access as needed.

Data protection: Advanced security features, including encryption and two-step verification, safeguard your data.
#2. NordPass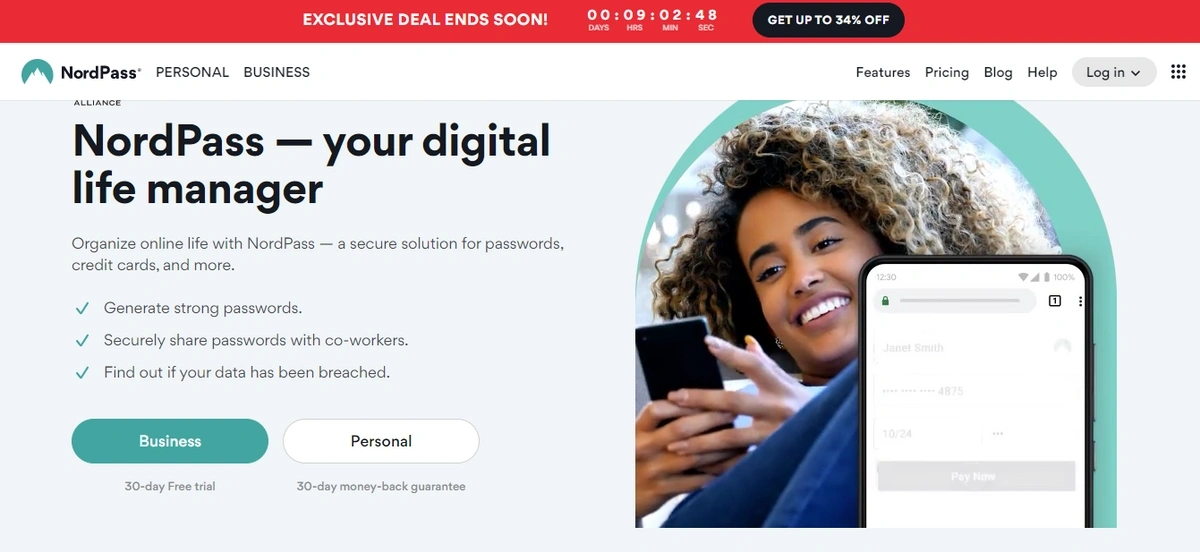 NordPass provides cross-platform access and generates and stores passwords without any storage limits. It also helps users store sensitive information securely and organize it into folders for easy and quick access.
NordPass offers both a free version for personal accounts and a paid premium account. For businesses, the annual plan costs $3.99 per user per month, while enterprise (which includes advanced SSO features and shared folders) requires contacting sales for a quote.
NordPass Features
Unlimited storage: No limits on password, credit card, or note storage in your vault.

Breach scanner: Alerts you if your emails or passwords have been compromised in a data breach.

Multi-factor authentication: NordPass uses TOTP and U2F authentication for added security.
#3. Dashlane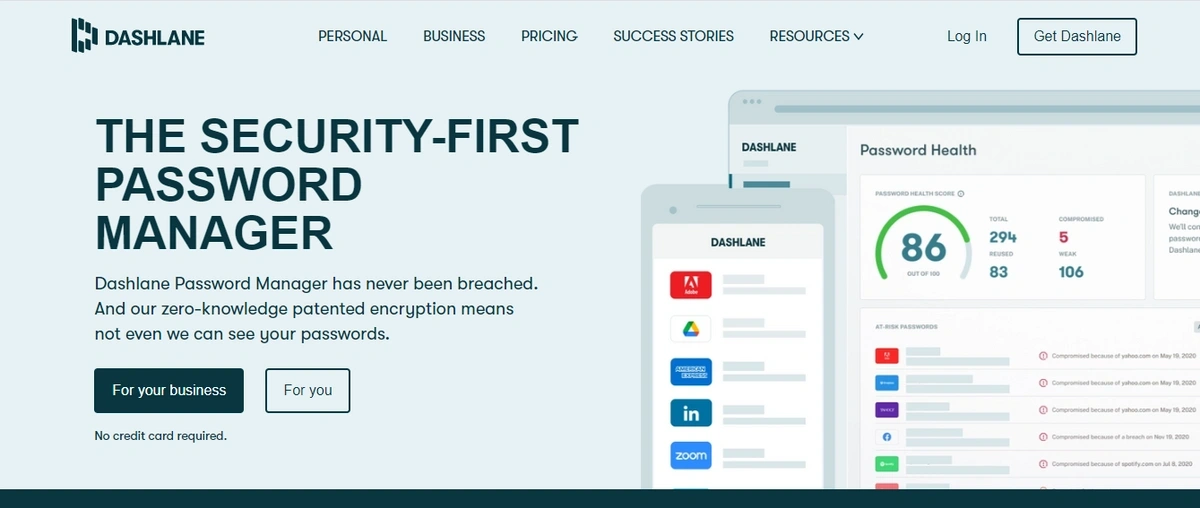 Like other 1Password alternatives, Dashlane provides several features including password generation and sharing, autofill, and accessibility options, all designed to enhance organization speed and security of online activities. Additionally, it includes a dark web monitoring feature that alerts users in the event of a data breach.
Dashlane advertises the fact that it has never been breached, and may appeal to those looking for extensive security features.
Dashlane's price starts at $2.00 per seat per month for up to 10 users. Larger teams can opt for the "Team" package starting at $5.00 per seat per month, while business features cost $8 per seat per month.
Dashlane Features
Password changer: Quickly update passwords on supported websites with just a few clicks.

Dark web monitoring: Scans the internet for signs of data compromise and alerts you to take action.

Secured notes: Store sensitive information like passport numbers or business details within the app and share only with trusted individuals.
#4. LastPass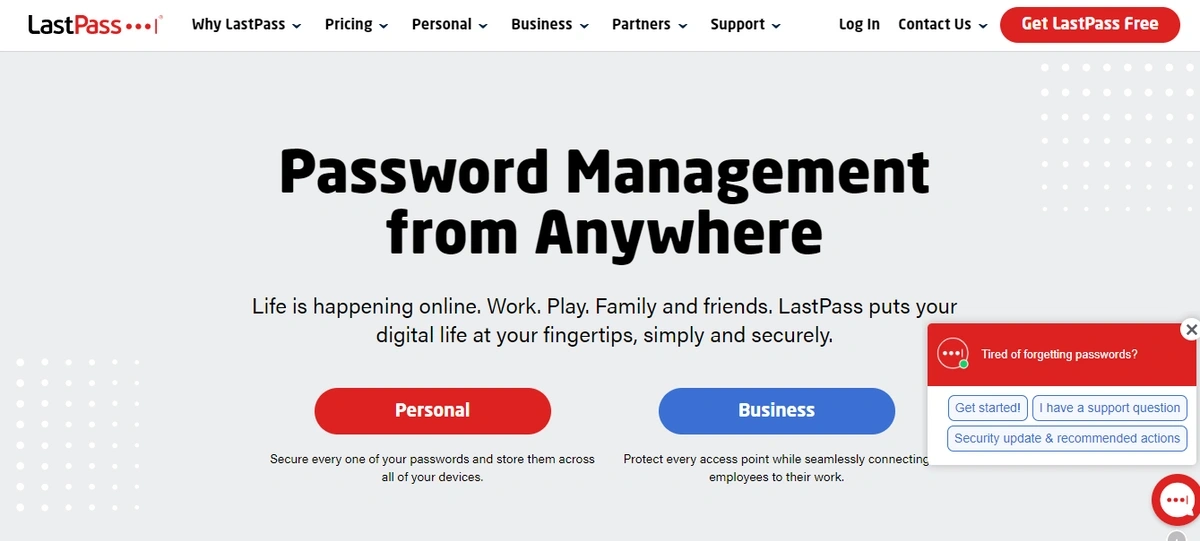 LastPass is a 1Password alternative with personal and business plans offering high-security standards and various browser extensions for multi-device compatibility. The platform allows you to securely share passwords with others.
LastPass promotes password hygiene through its dedicated authenticator app which offers two-factor authentication for your LastPass account and other supported apps. Additionally, it offers dark web monitoring and extra security features.
LastPass faced significant backlash in 2022 after a security breach exposed user vault backups to cybercriminals. Although the vaults were encrypted, the breach of the LastPass database was concerning, particularly considering the platform's previous security incidents.
LastPass has an annual plan available for teams at a cost of $4.00 per user/month, but it is limited to 50 users or less. For teams with more than 50 users, the cost increases to $6.00 per user/month annually. Optional add-ons drive the price up more.
LastPass Features
Enhance security: Use password generators and go passwordless.

Local encryption: Data is encrypted at the device level.

Multi-factor authentication: Choose authentication levels for each system or tool beyond 2FA.
#5. KeePass

KeePass is a free and open-source alternative to 1Password that offers a strong password generator and form autofill, along with the ability to import logins from browsers.While it may require a bit more technical expertise than other password managers, it's an ideal choice for teams looking for a free password manager tool.
One of the unique features of KeePass is its ability to customize its functionality. It allows users to configure its settings to meet their specific needs. Additionally, KeePass stores all of your passwords locally on your device, which means that you have full control over your data. This local storage also means that your data is not stored on any third-party servers, which adds an extra layer of security.
KeePass Features
Open-source: Check whether security features are implemented correctly.

Multiple user keys: Use a master password or key files to decrypt the database for added security.

Flexible import/export: Import data from various file formats and use KeePass database with other applications.
#6. Keeper

Keeper Password Manager is a reliable solution for businesses of all sizes that need to ensure security. The platform boasts user-friendly features and offers essential identity and access management functionalities. In addition, Keeper enables advanced tasks such as managing, protecting, and sharing passwords, files, and metadata for organizations.
Keeper's pricing starts at $2.00 per user/month for teams with up to 10 people. Enterprise plans require a custom quote.
Keeper Features
Password Management and Sharing: Create shared team folders with customizable access restrictions for adding, modifying, and sharing records.

Remote Infrastructure Access: Allow secure access to internal resources without the need for a VPN, from any device, and anywhere with zero-trust network access.

Secrets Management: Eliminate hardcoded credentials from code, configuration files, and continuous deployment systems.
#7. Bitwarden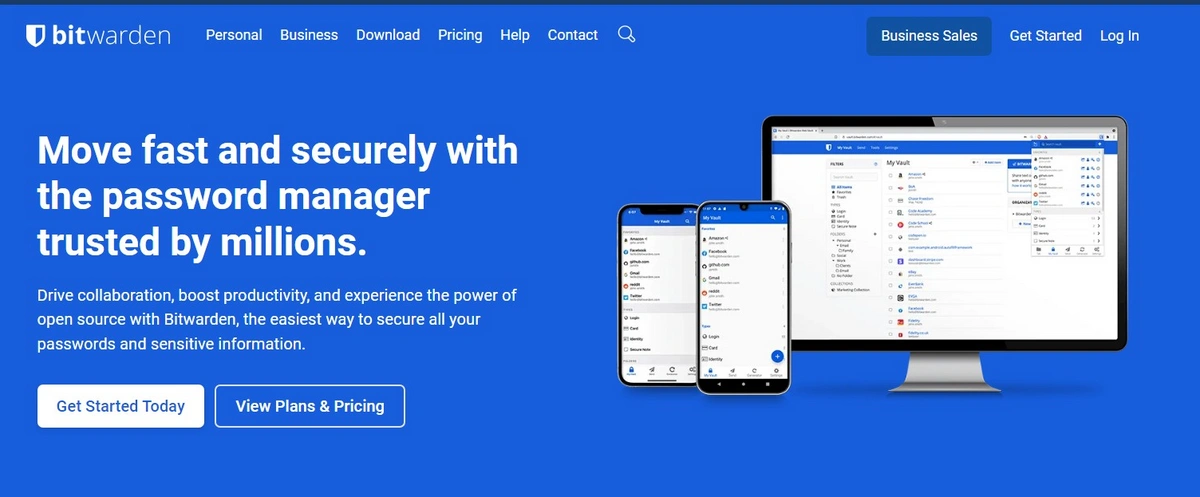 Bitwarden is a reliable alternative to 1Password with many of the same features, such as strong encryption, unlimited device syncing, and password generation.
Bitwarden's main selling points are its low cost and open-source code, which allows its users to see for themselves how security is implemented.
Bitwarden offers business pricing plans starting at just $3.00 per user per month, making it a cost-effective option for businesses of all sizes.
Bitwarden Features
Bitwarden Send: This feature allows you to safely share encrypted data with others, like passwords or credit card details, and set a self-destruct timer for added security.

Secure Notes: In addition to passwords, Bitwarden provides secure storage for other types of sensitive information.

Vault Health Reports: Bitwarden generates reports that analyze the strength and security of your passwords, providing a score for each one. These reports can help you identify potential security concerns and address them proactively.
#8. Zoho Vault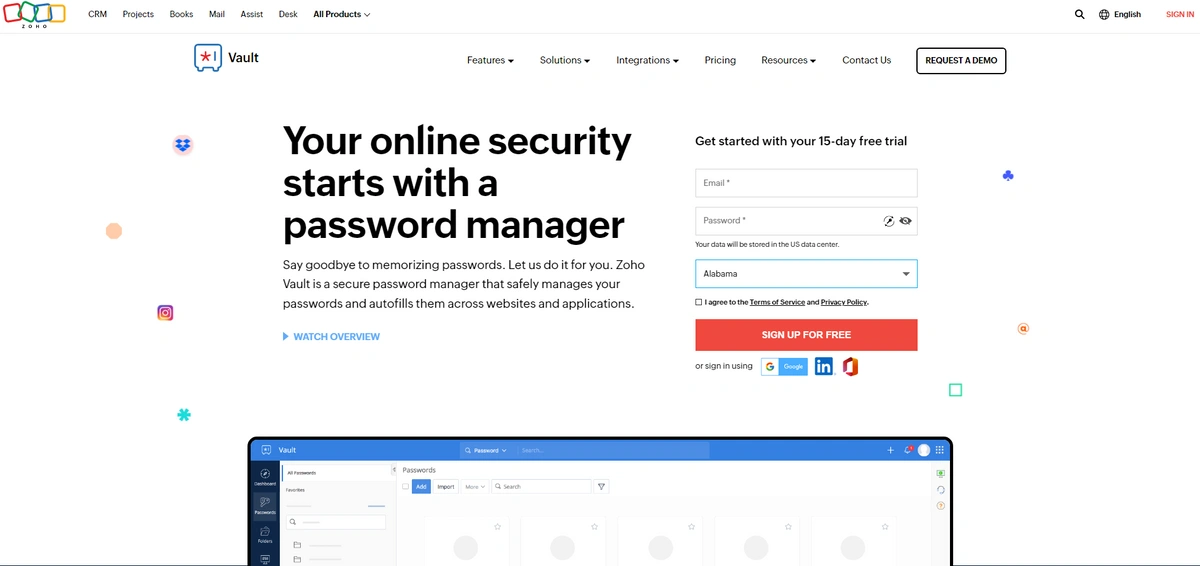 Zoho Vault provides top-notch security features like end-to-end encryption, two-factor authentication, and a zero-knowledge policy. You can access it offline through a fully encrypted HTML file that you can download and view anywhere, which can be restricted to certain users by organization admins.
Zoho Vault easily integrates with the entire Zoho app suite and popular Microsoft and Google offerings such as Azure Active Directory and Workspace.
Zoho Vault offers a free personal use plan, a $4.50/user/month Professional tier, and a $7.20/user/month Enterprise plan (billed annually). The Enterprise plan offers advanced features like Single Sign-On, help desk integrations, and password access control workflow.
Zoho Vault Features
Enjoy offline access: download an encrypted HTML file to access your passwords from anywhere
Expand your app integrations with the Enterprise tier
Safely share passwords with third parties on a one-time basis
#9. Enpass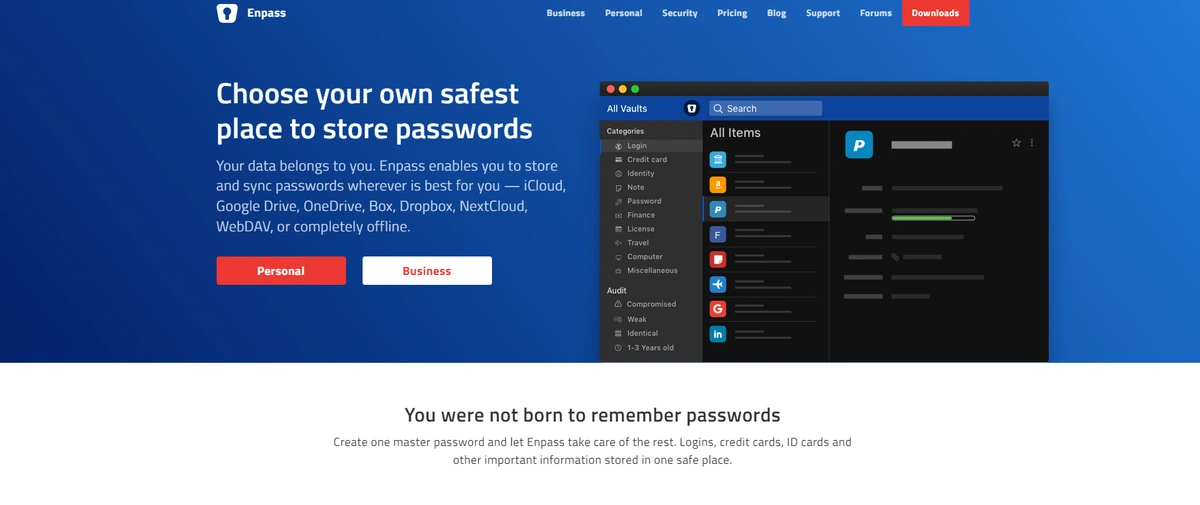 Enpass is a password manager that prioritizes offline use, allowing you to store and synchronize your passwords through multiple cloud services like iCloud, Google Drive, and Dropbox. To ensure your passwords' security, Enpass encrypts them in vaults that only you can access via your master password.
In addition to its offline capabilities, Enpass also boasts several features to manage your passwords and enhance online security. You can create robust passwords, log in to apps and websites with one click, automatically fill in payment information, perform password audits, organize your passwords into multiple vaults, and use templates for storing different types of information.
Enpass offers various pricing options to cater to different needs, ranging from $1.99 per month for individual users to $3.99 per user per month for the Enterprise plan, which includes automatic user provisioning.
Enpass Features
Offline password manager

Microsoft 365 Integration

Advanced corporate policy enforcement on Enterprise plan
#10. Norton Password Manager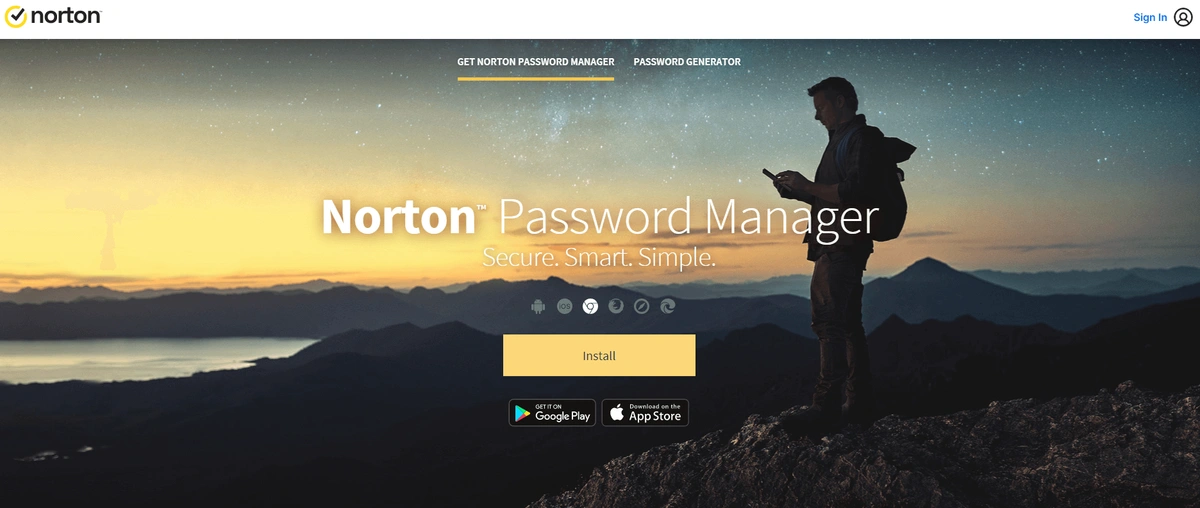 Norton Password Manager is a free and user-friendly cloud-based password manager available as a mobile app or browser extension. However, its desktop version has limited functionality, and it lacks a secure sharing option and robust multi-factor authentication support.
Norton Password Manager Features
Free

Cross-platform syncing

Quick setup
Try TeamPassword Today
When it comes to finding a suitable KeePass alternative, the choices can be overwhelming. But, if you are in search of a password management solution that caters particularly to team collaboration, then TeamPassword is your go-to option. It is specifically designed to meet the demands of teams and offers seamless password sharing and management.
Experience its features firsthand by taking a test drive today!