Password managers are ideal for securely storing logins and passwords, especially for businesses that need to access multiple systems and digital tools every day. Bitwarden might be an excellent password manager with tons of great features—but is it the best for your needs?
There are so many Bitwarden alternatives on the market, each with unique selling points. We've picked out five of the best and compared them to Bitwarden so you and your team can choose the right password management tool for you.
Password Manager Features to Look For
Let's take a look at the key features of these types of tools. What do you really need from a password manager?
Password management tools provide a secure repository for multiple passwords, which might be for your secure internal business systems, financial apps, or even customer relationship management (CRM) tools. They save time and frustration, plus there's the added security aspect of not having to manually write down individual passwords where they could potentially be discovered.
For a password manager to be effective, it must work for remote employees, be useful across multiple applications, and be easy to use. Beyond this, it's vital to seek out a password management solution that meets your exact business requirements in terms of security.
Other Features to Consider Include:
Multi-device compatibility: Most modern businesses use smartphones, tablets, and other devices, so it's essential to ensure your password manager functions on multiple devices.

Password generator: Look for tools that can generate strong, secure passwords for added security and time-saving.

Auto-fill/autocomplete: As well as saving and storing your passwords, many tools will autofill your login details to save you even more time.

Easy setup: While most password managers are relatively simple to use, a challenging initial setup could cause problems and cost your business time and money.
Let's take a look at five password managers you could choose as Bitwarden alternatives.
1. Team Password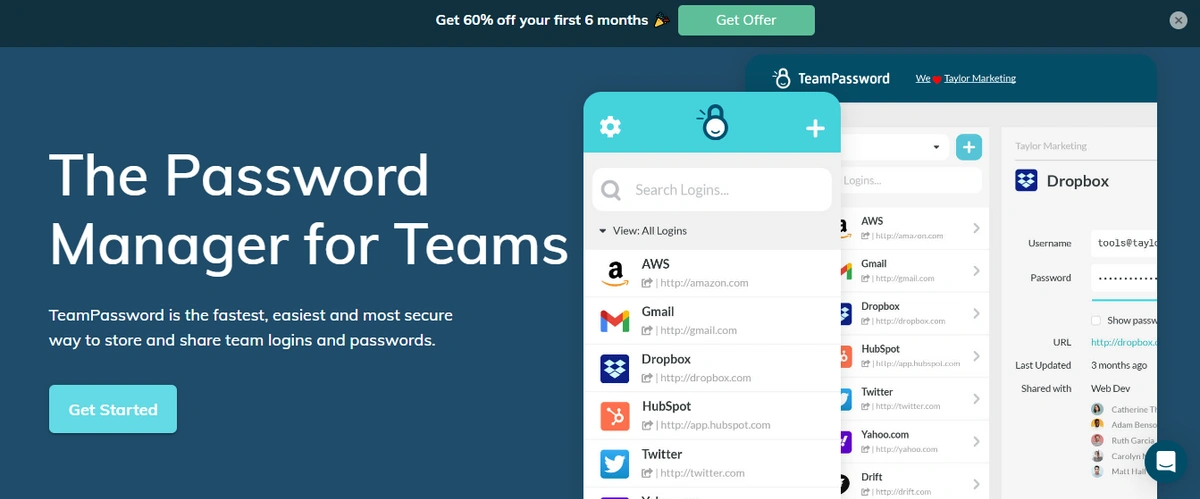 Link to homepage: TeamPassword
Price: Starts at $1.66 per user per month (minimum 15 users on the Standard Plan) with a 60% discount offer; standard pricing starts at $4.16 per user per month. For fewer users, there is a starter plan at $2.54/$6.34 per user.
Like Bitwarden, TeamPassword is capable of managing multiple logins for a variety of digital tools and systems. Both systems have a password generator and allow users to set multi-factor authentication. Both tools are highly rated on respected review site Capterra, although TeamPassword slightly edges out the competition, coming in at 4.8/5.
TeamPassword has several features that set it apart from other Bitwarden alternatives. Because its main focus is helping teams manage multiple or shared passwords, it's excellent for systems that require different levels of access. There's a simple Chrome extension and mobile app that makes working across multiple devices simple, while the variety of price plans means the password manager evolves with growing teams.
TeamPassword Features:
Ease of use: The system is easy to set up, and features like autofill and autosave make using this password manager fast and simple.

Responsive customer support: With TeamPassword, you can speak to a real person about any issues that crop up.
Seamless sharing: Create groups within your business and instantly share passwords with those who need them.

Secure encryption: Google single sign-on combined with a high level of data encryption makes this password manager highly secure.
2. 1Password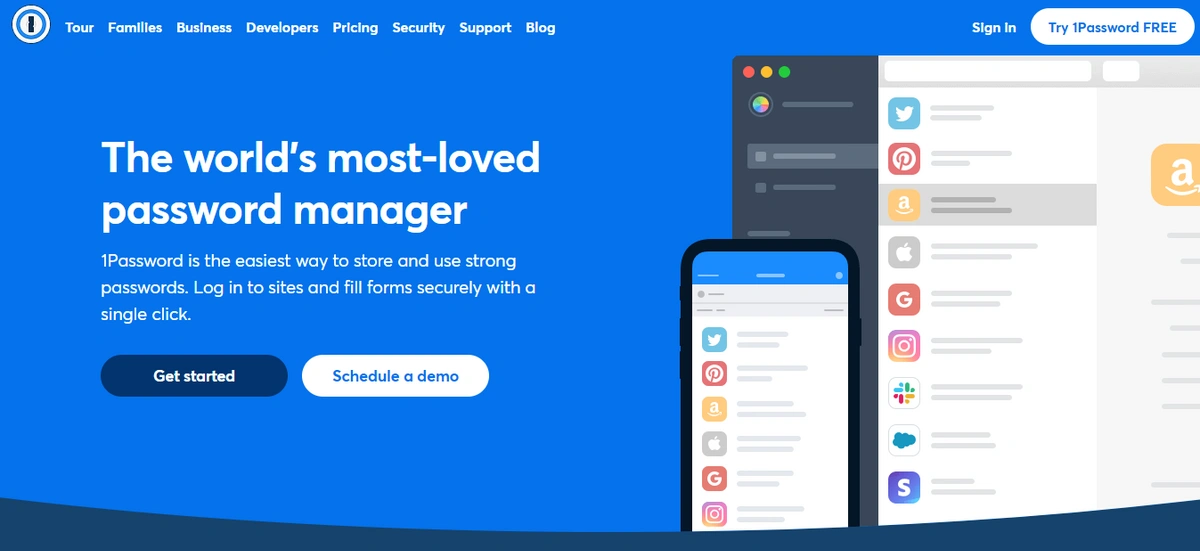 Link to homepage: 1Password
Price: $7.99 per individual business user or $19.95 for a team of 10; Enterprise service pricing provided on a bespoke basis.
As Bitwarden alternatives go, 1Password could be attractive to personal users because it focuses on password protection for families. There are also business options, options for individual users, and a single sign-on to access all your stored passwords. Both systems work across multiple devices.
The main difference between Bitwarden and 1Password is that there is no free option for 1Password. The prices start relatively high compared to other options. This is due to additional features such as 1GB of online storage and regular security recommendations written in plain language. 1Password has extensions for just about any internet browser, including Edge, Firefox, and Brave.
1Password Features:
Management: Password management is simple, and the interface is aimed at personal users as well as the more tech-savvy business user.

Sign-in: 1Password allows users to sign in using their biometric data, including facial recognition and fingerprints.

Secure: As well as providing secure encryption, the Watchtower feature monitors passwords and login details and gives you a

report on how secure your data is and what changes could be made.
3. NordPass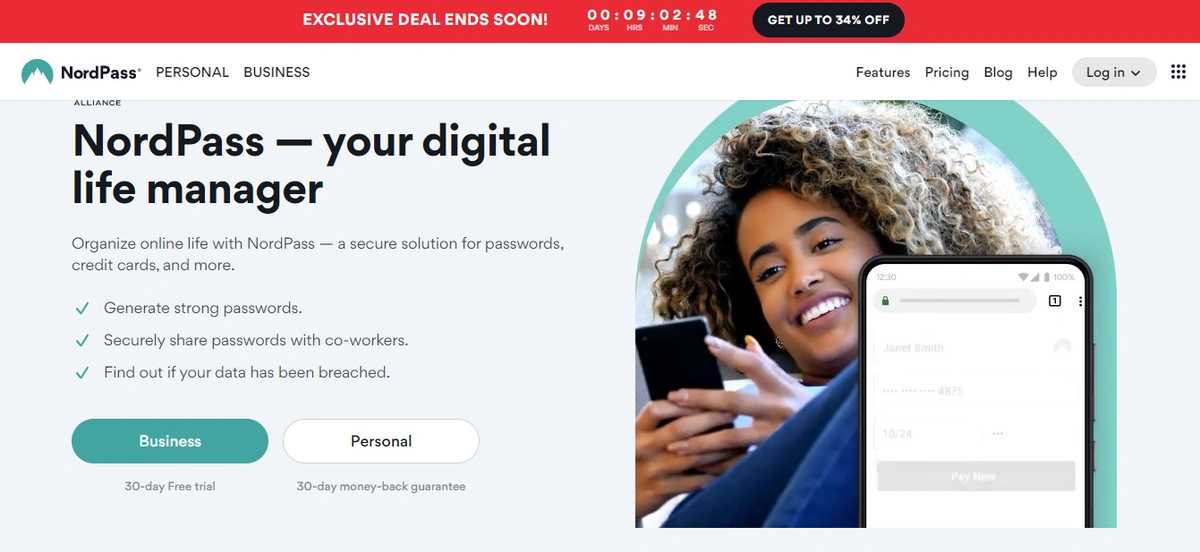 Link to homepage: NordPass
Price: Free for a single user; additional personal users from $2.29 a month; additional business users from $3.59 a month.
Nordpass, like Bitwarden, offers a free variant of its password management solution. However, this is only for a single user and is not as feature-rich as the paid versions. Both systems work across all the popular operating systems and most web browsers.
NordPass has some additional features that could benefit business users, such as the ability to save credit card and other financial information. The password generator also includes the ability to create easy-to-remember passphrases. The company provides 24/7 support via live chat.
NordPass Features:
Password saving made easy: NordPass makes it very easy to import passwords from other managers and update existing information.

Passwords sync automatically: New passwords and updates sync seamlessly across your connected devices.

Keep track of important things: As well as passwords, you can use secure encryption to store passport numbers, medical records, or any other piece of sensitive information.
Unlimited password storage: The paid versions of Nordpass allow users an unlimited number of passwords or other logins and sensitive information.
4. LastPass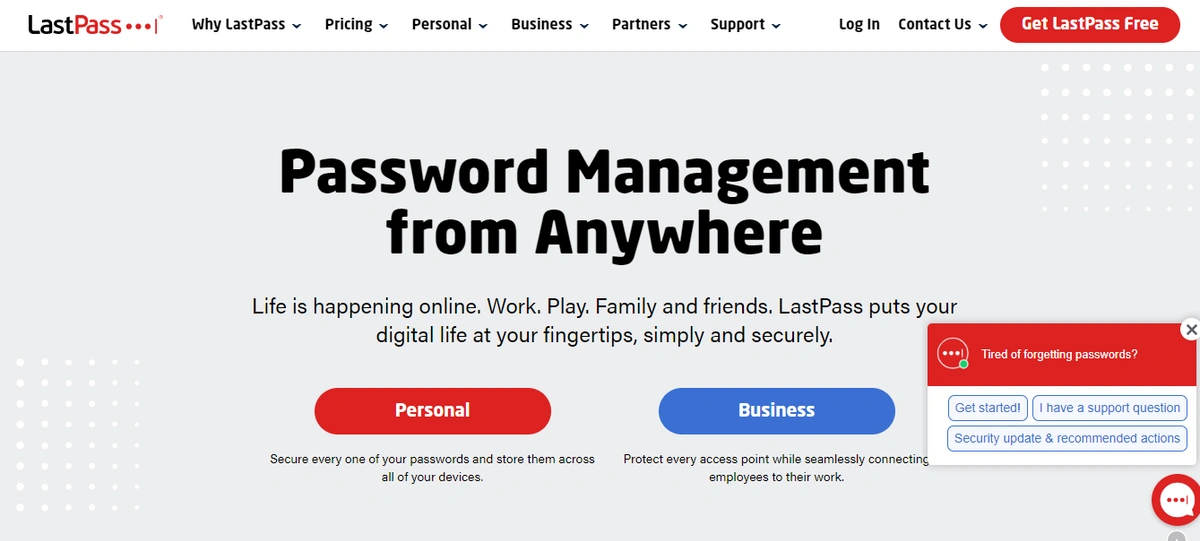 Link to homepage: LastPass
Price: $6 per user per month.
LastPass is one of the Bitwarden alternatives that offers personal and business options. Both options have high levels of security and a range of browser extensions to expand multi-device compatibility. They also both offer secure password-sharing capabilities.
Where LastPass shines is in its focus on "password hygiene." This means completely removing the need to record passwords separately and even using a separate authenticator app that replaces the need for auto-filling login information. LastPass provides dark web monitoring and other additional security features.
LastPass Features:
Security: Password generators and the ability to "go passwordless" help businesses increase their overall security.
A local encryption method: Data is encrypted at a device level for additional peace of mind.
Multiple-factor authentication: Go beyond 2FA and set the level of authentication you need for individual systems or tools.
5. Dashlane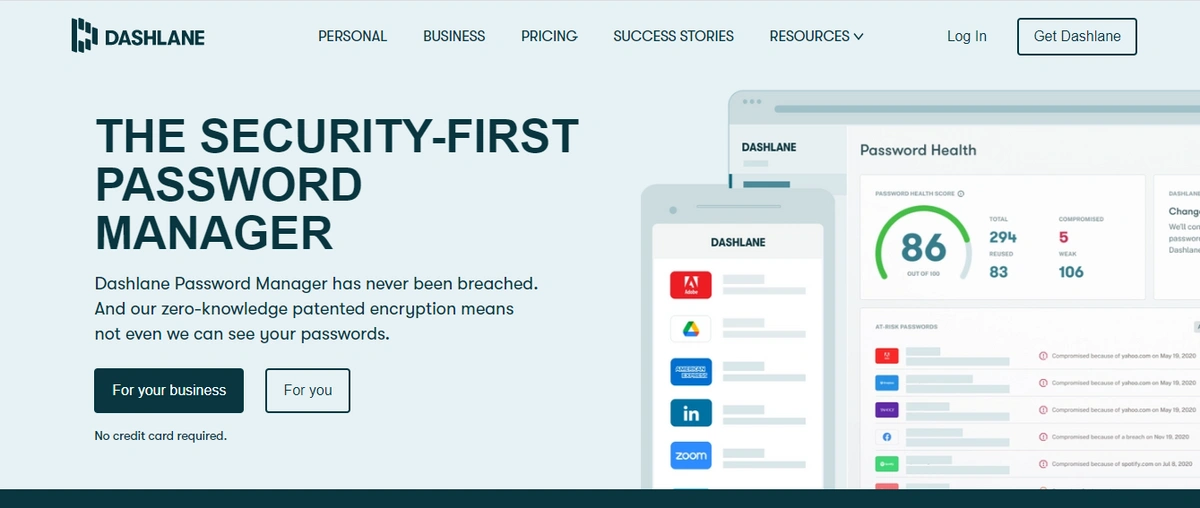 Link to homepage: Dashlane
Price: A starter business plan starts at $2 per user, per month, for a minimum of 10 users.
Dashlane bills itself as "The Security-First Password Manager." It offers personal and business features like other Bitwarden alternatives. Both systems are relatively easy to deploy and use. Likewise, both systems offer at least two-factor authentication for additional password security.
Dashlane's standout features revolve around how it manages data. As well as securing your passwords and other sensitive information, the system continuously scans for data breaches. Monitoring hacked records can help notify users they need to change their passwords before any data is compromised.
Dashlane Features:
Breach secure: As of March 2023, Dashlane's server have never been breached.
Zero-knowledge encryption: Dashlane's particular method of encryption and data storage means not even they can access your passwords.

Encrypted file management: Secure financial or medical records with ease.
How to Switch Password Managers
It's not as difficult as you might think to switch password managers. You simply need to find out how to export the data from your existing tool, then import it into your chosen Bitwarden alternative.
For exporting from Bitwarden, follow these simple steps:
Look for the "Tools" menu in Bitwarden

Select "Export Vault"

Choose an appropriate file format—you might need to check with your new provider what to pick here, but .json is a commonly used format, as is .csv

Confirm your details, enter your master password, and click the button that says "Export Vault"
The Best Bitwarden Alternatives
It's clear there are many great Bitwarden alternatives, and it's vital to know what you need from a password manager before choosing. If you need to effortlessly share passwords between teams and manage different access levels with ease while maintaining the highest levels of encryption, TeamPassword is the natural choice. Check out our pricing structure to see how cost-effective this teams-focused password management tool could be for your business.