With the increasing number of online accounts we have today, it's tempting to use the same password or choose something simple and easy-to-remember. But this practice can put our online security at risk, especially when a hacker gains access to one of our accounts, which can lead them to access our other accounts too.
Finding a reliable and feature-rich password manager is essential to help you keep track of your login credentials. However, with many options available in the market, selecting the best one can be a daunting task. This guide compares three popular password managers to help you in your decision-making process.
What is Dashlane?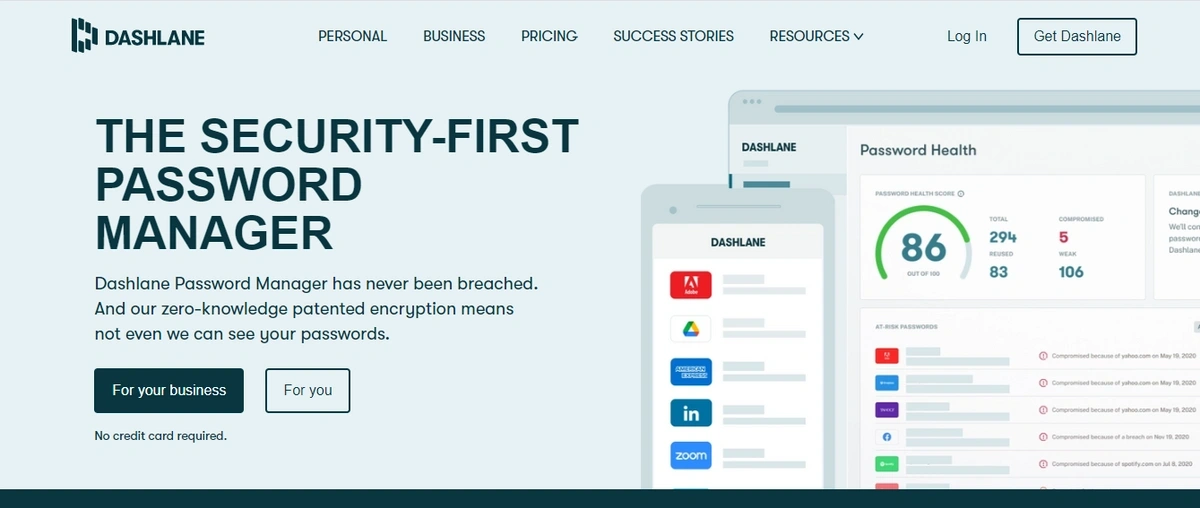 Dashlane is a password manager suitable for both personal and business applications. It enables users to manage and access their passwords from any desktop or mobile device. Dashlane provides essential password management features like one-click passwords and forms, automatic password generation, and password-sharing options.
One notable feature of Dashlane is its patented encryption feature, which ensures full protection of passwords and allows seamless integration across all devices. Those worried about sharing sensitive information may find the platform particularly useful, as even Dashlane cannot access stored passwords.
What is Keeper?

Keeper is a password manager focusing on fine-grain admin insights and controls. It is designed to help individuals and businesses protect their digital identities and ensure their online activities are safe from cyber threats. Keeper advertises robust role-based enforcement policies, delegated administration, in-depth reporting on password activity, and event logging for over 140 event types.
Keeper boasts a fully-featured desktop application, which may appeal to some users, and a Secrets Management service as an add-on.
Keeper does not have a free plan for personal use, but its business plans are competitively priced.
What is TeamPassword?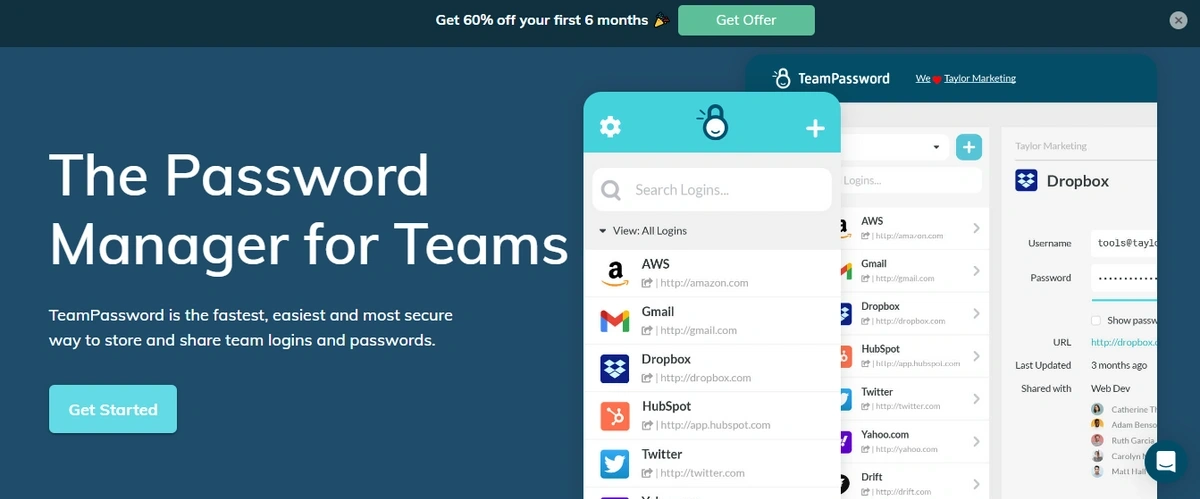 TeamPassword is a password management solution created specifically for teams and organizations. Its user-friendly interface simplifies storing, organizing, and managing passwords, eliminating the need for time-consuming onboarding sessions. The software comes equipped with features such as autofill and browser extensions that simplify the login process.
Adding or removing users from password groups or your organization is effortless with TeamPassword.
In addition, TeamPassword offers pricing plans that cater to teams and organizations of varying sizes, making it accessible to businesses with budgets of all sizes.
Dashlane vs. Keeper vs. TeamPassword: Features Overview
Below, we'll go into more depth comparing features. Here's a chart summarizing the comparisons:

Usability
Password management tools are designed to simplify password management for users. If a password manager is challenging or difficult to use, team members may hesitate to adopt it, ultimately affecting the organization's security. A user-friendly password manager can promote adoption and encourage consistent use of the software.
In addition, a user-friendly password manager can save time.
Dashlane
Dashlane is intuitive, allowing users to manage and access their passwords with ease. The software has several security features that prioritize the user's protection, including breach notifications and dark web insight alerts. These features keep users informed about potential security threats, enabling them to take necessary precautions and reduce the risk of data breaches.
Keeper
Keeper offers significant control for admins and a straightforward interface for users where passwords are presented in folders and subfolders. Passwords can be shared securely through one-time links even to users without a Keeper account, eliminating the temptation to move passwords out of the encrypted platform.
TeamPassword
TeamPassword prides itself on a simple user interface that your employees will love using. TeamPassword only shows the user what they need to see: their passwords. TeamPassword's goal is to eliminate the need for extra onboarding; add the user, and they'll be up and running in no time.
Device Compatibility
TeamPassword and Dashlane are available through Windows, Mac, iOS, and Android platforms and support Edge, Chrome, Firefox, and Safari browsers.
Keeper includes the above but adds a fully-featured desktop application to the mix, which may appeal to some users.
Password Sharing
Dashlane
Dashlane allows users to share a password with a single user, or multiple passwords with multiple people through sharing groups. The recipients must have a Dashlane account.
Keeper
Typical sharing in Keeper happens through folders and subfolders to which admins can give access. Additionally, users can create one-time share links to share a credential with anyone, even if they don't have a Keeper account. This link automatically expires at your chosen time and cannot be opened by a device other than the original recipient. Admins can enable or disable the use of this feature for users.
TeamPassword
TeamPassword is designed to facilitate easy record sharing. Custom groups such as Marketing, Sales, or Dev Team help to organize your records, and adding or removing users from these groups is a straightforward process that requires only a few clicks. Moreover, users can contribute to one or multiple groups by adding records they've created. Like Dashlane, users must have an account to share passwords.
Security
Dashlane
Dashlane uses AES-256 encryption to transfer data securely to its servers and monitors the dark web for potential threats. Its VPN Wi-Fi feature provides additional security while users are on the move. The software supports a range of 2FA options, including physical security keys and time-based one-time passwords (TOTPs) through apps such as Google Authenticator or Dashlane's MFA app.
Keeper
Keeper boasts SOC 2 Type 2, ISO 27001, and TRUSTe certifications. They offer robust role-based enforcement policies and delegated administration.
Keeper provides in-depth reporting on password activity and event logging for over 140 event types.
TeamPassword
TeamPassword employs AES-256 encryption and offers Google Single Sign-on with all plans. It also utilizes backend fraud analytics to detect and prevent suspicious activity. The platform is equipped with audit tools that enable admins to monitor access, changes, and removal of records by team members. Furthermore, admins can enforce two-factor authentication across the organization.
Support
Dashlane offers live support in English, French, or German Monday–Friday from 9 AM to 6 PM EST. Business plan admins can request a Zoom call.
Keeper offers 24/7 support, free Q&A technical supports webinars, and documentation.
TeamPassword offers live customer support Monday through Friday, 9AM to 7PM EST, averaging a sub-five minute response time. They are also available by phone and email.
Pricing
Dashlane Pricing
$0 to $8.99 per user / month
(Annual plans)
Team plan: $5 per user / month
Business: $8 per user / month
Dashlane offers a free plan for individual users, but don't be fooled: it is limited to one device.
Keeper Pricing
$2 to $3.75+ per user / month
Business starter for up to 10 people is $2/user/month, while the standard business plan is $3.75. Enterprise, which includes advanced SSO features, requires a custom quote.
TeamPassword Pricing
$1.66 to $7.60 per user / month
TeamPassword offers its annual plan for $1.66 per user per month for the first six months, after which the cost increases to $4.16 per month per user.
Dashlane vs. Keeper vs. TeamPassword FAQs
Which Is Better, Dashlane or Keeper?
Dashlane is more established in the industry, but Keeper offers more fine-grained administrative controls. Additionally, Keeper has a one-time-share feature to share credentials with users who do not have a Keeper account. For most use cases, Keeper edges out Dashlane in terms of price-to-features.
How Do You Choose Which Password Manager Is Best?
Dashlane, Keeper, and TeamPassword each have unique strengths depending on your needs. Dashlane and Keeper boast fine-tuned control over security and in-depth admin insights.
TeamPassword is specifically designed for teams and businesses, with pricing and features tailored accordingly.
We have provided the essential distinctions relevant to a business-oriented password manager. With this information, you can make an informed decision that aligns with your needs and requirements.
When you're ready, try TeamPassword for free!