Password managers are a reliable and secure solution for storing login credentials, particularly for businesses requiring daily access to numerous systems and digital tools. Although LastPass is loaded with features, it might not be the best fit for your specific requirements.
LastPass received significant criticism in 2022 for a breach that allowed cybercriminals to steal backups of user vaults. The vaults were still encrypted, but the fact that threat actors were able to breach the LastPass database raised concern, partially due to several other security incidents that have occurred at LastPass over the last few years.
That being said, you may want to look elsewhere for a password manager!
We've rounded up 5 of the best alternatives to help you and your team find the most appropriate password management solution.
Password Manager Features to Look For
There are a few essential features that most top password managers have. Still, it's important to cover the basics before importing passwords and onboarding your team.
Some password managers overwhelm you with features or lock useful features behind a paywall. Try to find a password manager where you'll pay for the features you need and not the ones you don't.
Other Features to Consider Include:
Multi-device compatibility: Ensure the password manager works on all devices used by the business.

Password generator: You want a built-in password generator so that creating strong and secure passwords is easy.

Auto-fill/autocomplete: Choose password managers that auto-fill login details to save time.

Easy setup: Select managers with easy setup to avoid wasting onboarding time and troubleshooting. Your password manager should simplify your business operations.
Now, let's examine five password managers you could choose as LastPass alternatives.
TeamPassword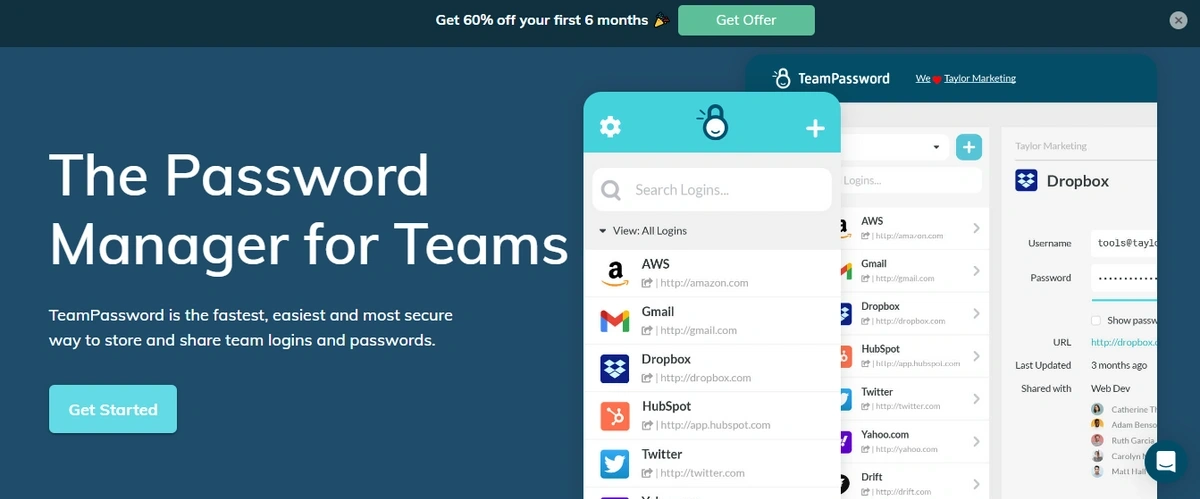 TeamPassword is the perfect password management tool for collaborative teams, such as agencies handling multiple client passwords and small businesses seeking to bolster security across departments.
One feature distinguishing TeamPassword from similar tools is its user-friendly interface, which simplifies navigation. Not only does this improve the user experience on a day-to-day basis, but it also ensures seamless onboarding for new team members.
TeamPassword is a streamlined and affordable solution that offers only the necessary features without the added complexity of unnecessary bells and whistles. At $1.66 per user per month for the first six months, TeamPassword's yearly plans are highly cost-effective. The price increases to $4.16 per month per user after six months, with additional discounts available based on plan size.
TeamPassword Features:
Easy accessibility: Team members can easily access their tools and services from any device.

Intuitive user interface: The simple and user-friendly UI enables effortless use of all features, resulting in a high adoption rate.

Password sharing: Sharing passwords with team members or groups is a hassle-free process with just a few clicks. Access restrictions can also be implemented quickly.

Password generator: TeamPassword generates strong, random, and secure passwords on your behalf.

Security features: TeamPassword offers robust security features, including two-step verification (enforceable) and encryption, to ensure the safety of your data.
1Password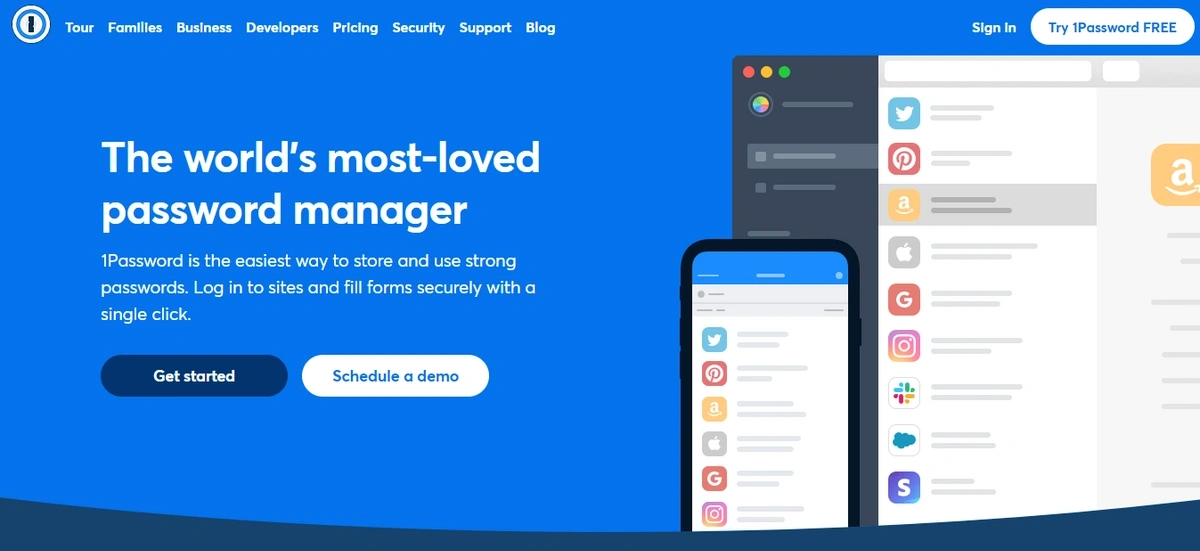 1Password, similar to LastPass, offers an automatic form filler, cross-platform support, multi-factor authentication, a password generator, and superior data encryption. These overlapping features make it a viable option to consider as an alternative.
Although 1Password does not provide a free plan, a 14-day trial of its premium plan is available. After the trial, a personal plan costs $2.99, while the Teams Starter plan for businesses is $19.95 per month for up to 10 people. Additionally, the Business plan is available for $7.99 per user per month.
1Password Features:
Travel Mode: This feature allows you to temporarily eliminate sensitive information from your devices when traveling.

Secure Document Storage: Store confidential documents, such as passports and insurance policies, in an encrypted format that is protected by a master password.

Watchtower: 1Password's Watchtower feature tracks website security concerns and promptly notifies you of any issues, enabling you to keep your accounts safe.
Nordpass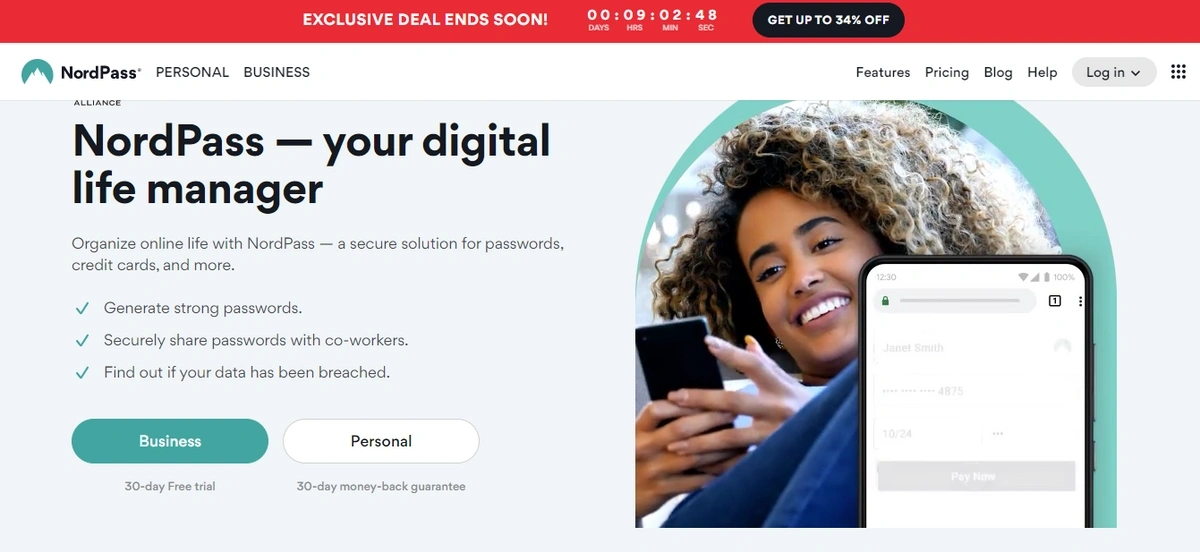 NordPass is a reliable alternative that enables cross-platform accessibility, generating and storing passwords without any storage limits. It goes beyond password management and allows you to securely store sensitive information in folders for quick and easy access. NordPass offers a free personal account with the option to upgrade to a paid premium account. Their business pricing includes a two-year plan that costs $3.59 per user/month and comes with a free trial.
Nordpass Features:
Store without limits: NordPass lets you store an unlimited number of passwords, credit cards, and notes in your vault without worrying about storage limits.

Stay informed about data breaches: The data breach scanner notifies you whenever your email or password is detected in a data breach, so you can take quick action to secure your accounts.

Advanced authentication: NordPass uses time-based one-time password (TOTP) and universal two-factor (U2F) authentication to provide an extra layer of security for your data.
Bitwarden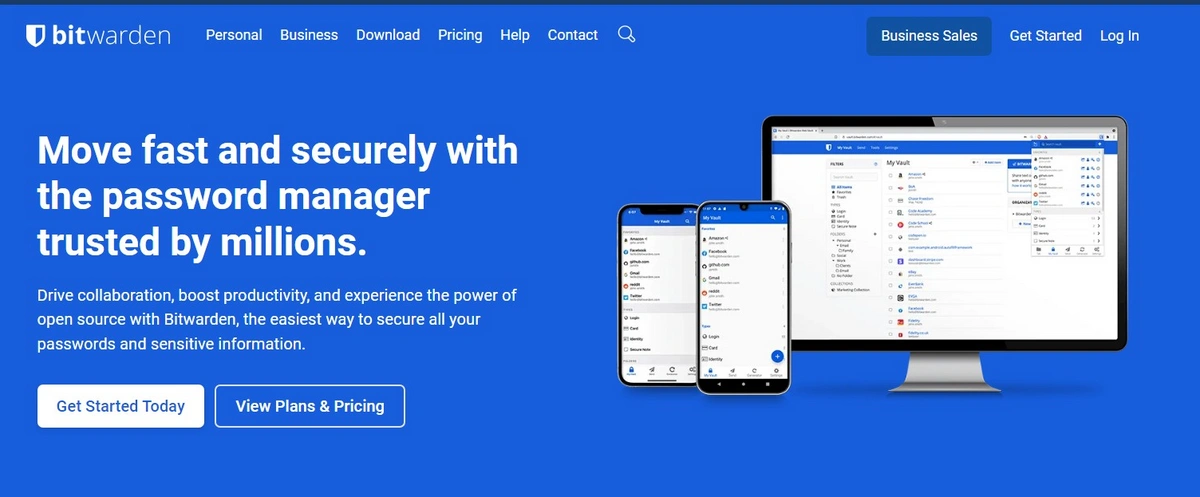 Bitwarden, an open-source alternative to LastPass, prioritizes security and ease of use with features such as strong encryption, unlimited device syncing, zero-knowledge encryption, and password generation. These features make password management effortless and secure.
Bitwarden offers various pricing plans, including personal and family plans, as well as business plans starting at $3.00 per user/month, making it an affordable solution for both personal and professional use.
Bitwarden Features:
Bitwarden Send: This feature lets you securely share encrypted information with others, such as passwords or credit card details, and set a self-destruct timer for added protection.

Secure Notes: Bitwarden also provides secure storage for other types of sensitive information beyond passwords.

Vault Health Reports: Bitwarden generates reports that analyze the strength and security of your passwords, providing a score for each one. By using this data, you can identify and address potential security concerns proactively.
Dashlane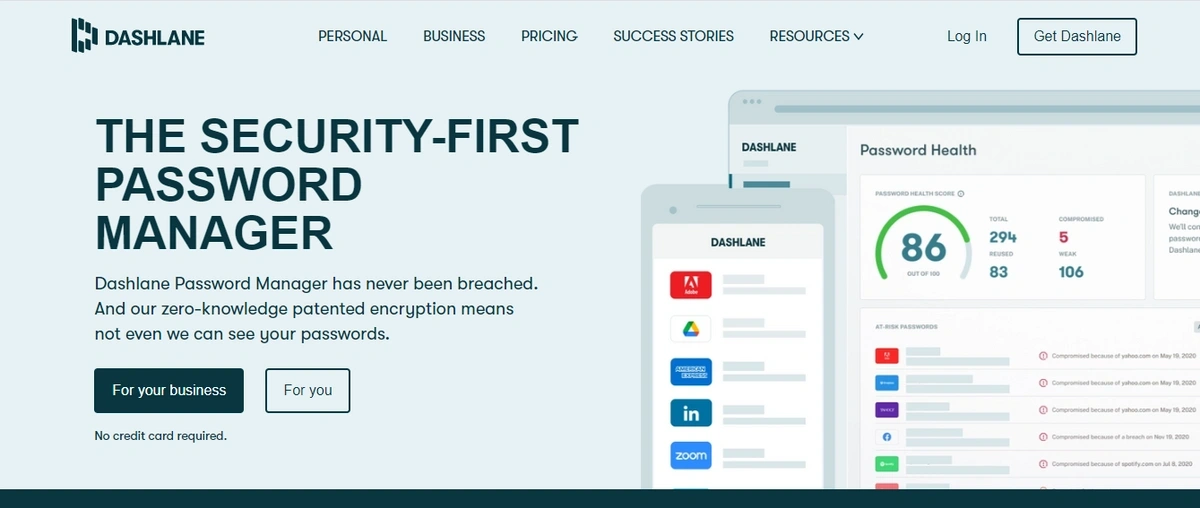 Dashlane, like other LastPass alternatives, offers several similar features, including a password generator, password sharing, autofill, and accessibility capabilities, to help users organize, speed up, and secure their online activities. Additionally, Dashlane has a dark web monitoring feature that sends alerts when a data breach occurs.
For up to 10 users, Dashlane's starter pricing starts at $2.00 per seat/month, while larger teams can use the "Team" package, which starts at $5.00 per seat/month.
Dashlane Features:
Password changer: Update your passwords on supported websites with just a few clicks using this feature.

Dark web monitoring: Receive alerts if your data is found on the dark web as this service scans the internet for compromised information.

Secured note: Save sensitive information like passport numbers or business details within the app and grant access only to trusted parties with this feature.
How to Switch Password Managers
Switching password managers is a straightforward process that requires only a few steps. First, you need to export your data from your current password manager, then import it into your new LastPass alternative. With the right instructions, the process can be completed quickly and easily, allowing you to start using your new password manager in no time.
Go to the LastPass login page: https://lastpass.com/?ac=1

Enter your email address and master password, then click Log In.

If prompted, complete steps for multifactor authentication (if it is enabled for your account).

Select Advanced Options > Export.

If prompted, enter your master password. If desired, select

Do not re-prompt for

and use the drop-down menu to select a time interval.

Select Continue.

Result: An email notification has been sent to your LastPass email address for verification.

Check your inbox for a "Verify export" message, then click Continue export in the email to verify.

Note: The verification link expires after 10 minutes.

Return to your vault, then go to Advanced Options > Export again.

If prompted, enter your master password and click Submit.
Which Password Manager is the Best For You?
TeamPassword is an excellent solution tailored to teams that value robust encryption algorithms, personalized access controls, and timely customer support. With its exceptional features, this password management tool enables your team to securely store, share, and manage passwords. Give TeamPassword a try today to test it for yourself.