Password managers are critical tools, especially for businesses that use a wide range of apps, platforms, and services daily. And while Keeper offers many benefits, it may not be the best option for you. In this guide, we compare and contrast several Keeper alternatives, so you can make the best choice for your team.
[Table of Contents]
5 Features to Look for in Password Manager Tools
There are many password manager tools out there, but they're not all created equal. There are some key features you must look for when comparing Keeper alternatives.
#1. Intuitive User Interface
Working the password manager shouldn't be equivalent to rocket science. Instead, the tool you choose should have a simple and intuitive user interface. As a result, your team can focus less on entering passwords and more on important tasks.
#2. Easy Password Sharing
Still sharing passwords via a spreadsheet or another manual tool? A password manager simplifies password sharing by enabling you to share logins and passwords with specific team members or even external collaborators. Plus, you can remove access with just a couple of clicks.
#3. Robust Security
The best password managers include robust security features such as two-step verification and AES 256-bit encryption. Make sure the tool you choose is compliant with security standards such as ISO 27001, SOX, and PCI Level 1.
#4. Auto-Fill Capabilities
Using auto-fill, your password manager can automatically fill login forms with saved credentials. This further streamlines the login process, reducing the time it takes to switch apps.
#5. Multi-Device Support
You should choose a password manager tool that offers multi-device support. This means it's accessible on your team's laptops, mobile devices, or desktops. With full device support, your team can easily log in to their critical apps and services from anywhere.
#1. TeamPassword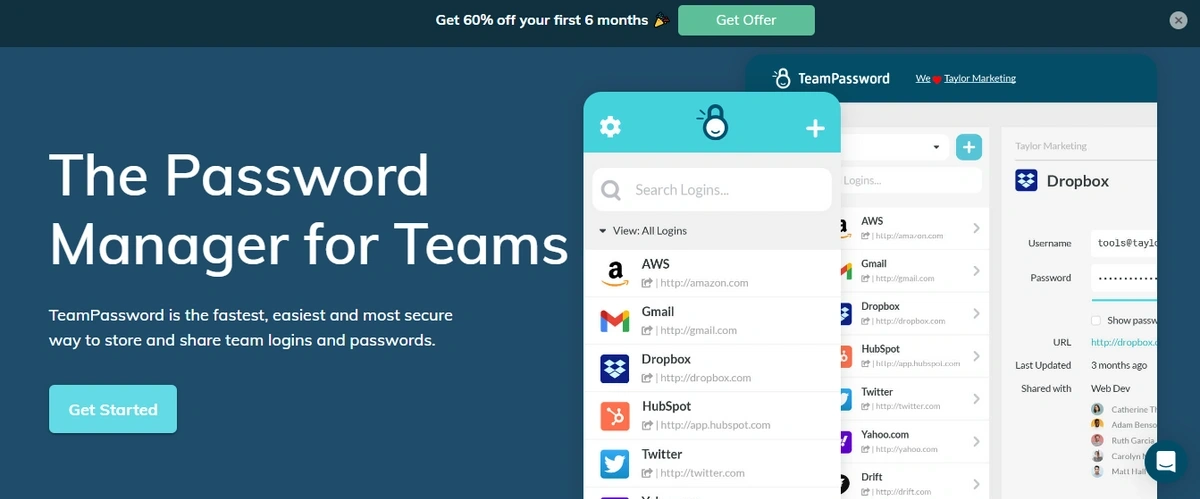 TeamPassword is built for collaborative teams, including agencies managing multiple client passwords and small businesses looking to improve security across departments.
A feature that sets TeamPassword apart is its user-friendly interface, which simplifies navigation. Not only does this improve daily use, but it also results in simple onboarding when bringing on new team members.
TeamPassword is a streamlined tool that provides the features you need and nothing you don't. It's also affordable. TeamPassword offers its yearly plans for just $1.66 per user per month for the first six months. After six months, the cost rises to $4.16 per month per user, with additional discounts based on plan size.
TeamPassword Features
Easy accessibility: Team members can log in to their tools and services from virtually any device.
Intuitive user interface: The simple UI results in easy use and a high adoption rate for all the features.
Password sharing: Users can easily share passwords with team members or groups in just a couple of clicks. Access can also be restricted quickly.
Password generator: TeamPassword generates random, strong, and secure passwords on your behalf.
Security features: TeamPassword offers robust security features such as two-step verification and encryption.
#2. 1Password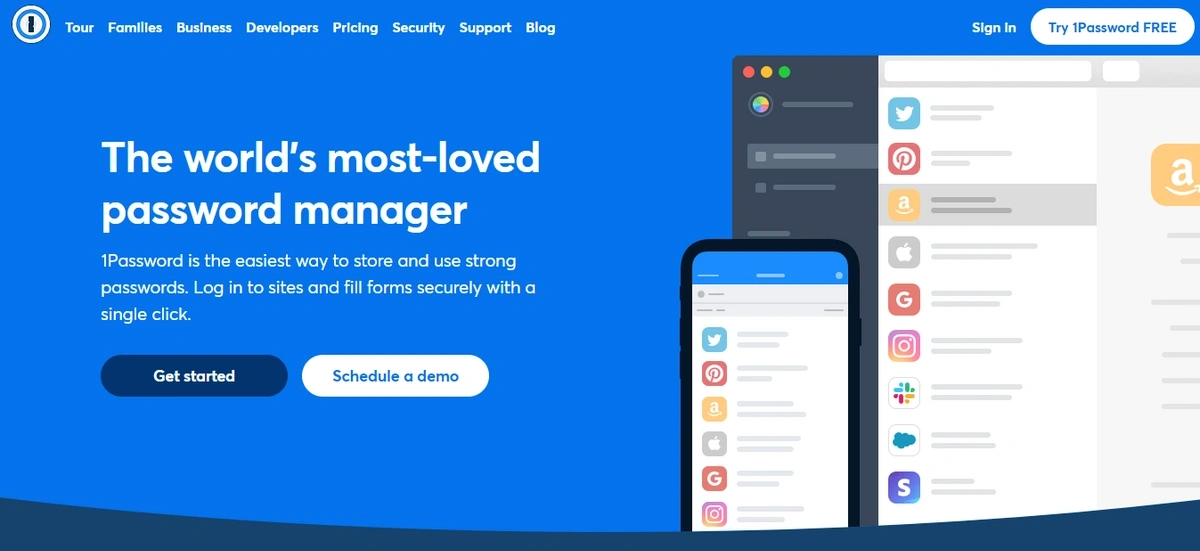 1Password, like Keeper, has an automatic form filler for convenience and provides cross-platform support, multi-factor authentication, a password generator, and strong data encryption. These similarities it shares with Keeper make it a suitable alternative.
1Password has no free plan, but you can try their premium plan for 14 days. After that, a personal plan costs $2.99. For businesses, the Teams Starter plan costs $19.95 per month for up to 10 people. The Business plan costs $7.99 per user/month.
1Password Features
Travel mode: With this feature, you can temporarily remove sensitive information from devices when traveling.
Secure document storage: You can easily store sensitive documents like passports, insurance policies, and more, all encrypted and protected by a master password.
Watchtower: Built right into 1Password, Watchtower keeps track of website security concerns and alerts you so you can keep accounts safe.
#3. LastPass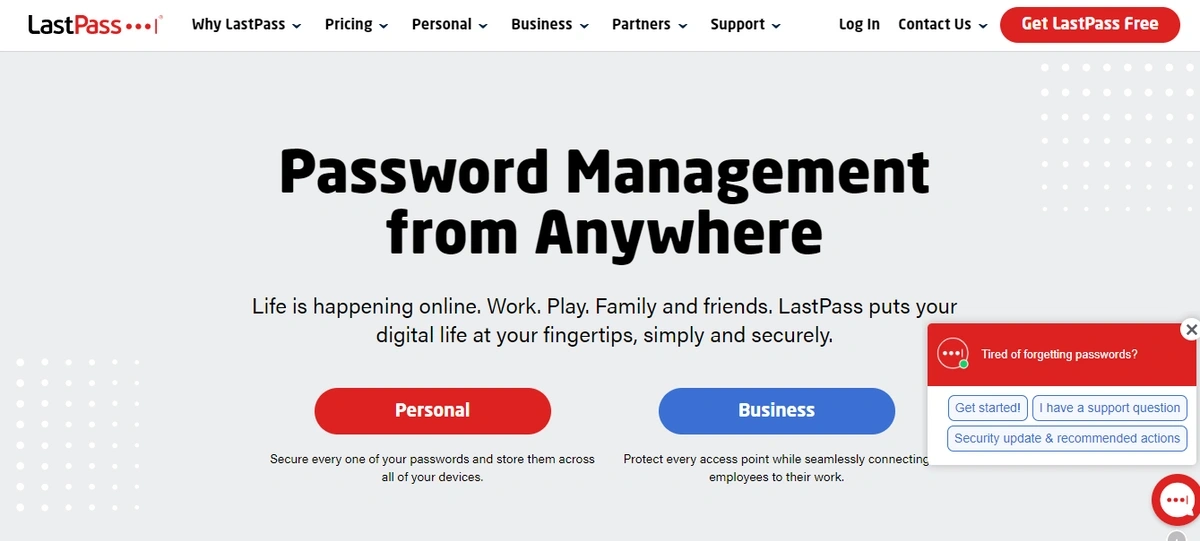 LastPass has the tagline "password management from anywhere," which means it prioritizes simple accessibility. Another feature that gives it an edge is its dark web monitoring, which alerts you when your information is at risk. It also reduces the number of passwords you must manage by providing the authenticator as a substitute.
For pricing, business plans are available. The Teams plan is priced at $4.00 per user/month, and the Business plan is priced at $6.00 per user/month.
LastPass Features
Password generator: The generator provides strong passwords that are difficult to hack, further protecting your sensitive information.
Dark web monitoring: This feature alerts you when there has been a breach of your data so you can take the necessary steps to mitigate the risk.
Storage of digital records: LastPass Vault can store sensitive records such as social security numbers, insurance cards, and payment cards.
#4. Dashlane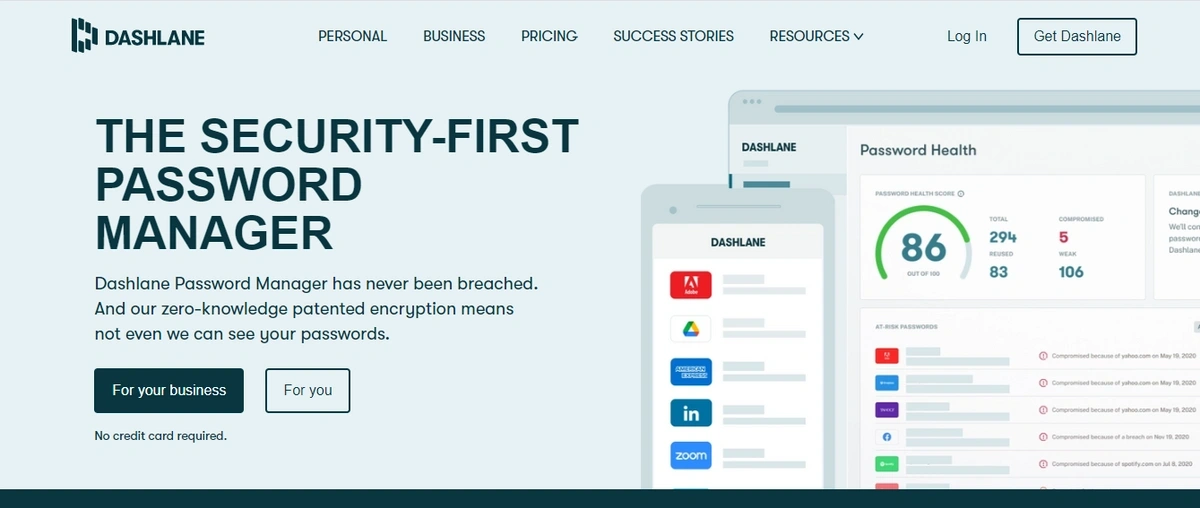 Dashlane, like other Keeper alternatives, shares a host of features with Keeper, including a password generator and password sharing, autofill, and accessibility capabilities. These features are available to help with better organization, speed, and security of online activities. It also has a dark web monitoring feature that alerts you when a data breach occurs.
Starter pricing for Dashlane starts at $2.00 per seat/month for up to 10 users. Larger teams can use the "Team" package, which starts at $5.00 per seat/month.
Dashlane Features
Password changer: This feature allows you to automatically update your passwords on supported websites with just a few clicks.
Dark web monitoring: This service scans the internet for compromised information and sends alerts if your data is found on the dark web.
Secured note: You can save sensitive information like passport numbers or sensitive business details within the app and grant access only to trusted parties.
#5. Bitwarden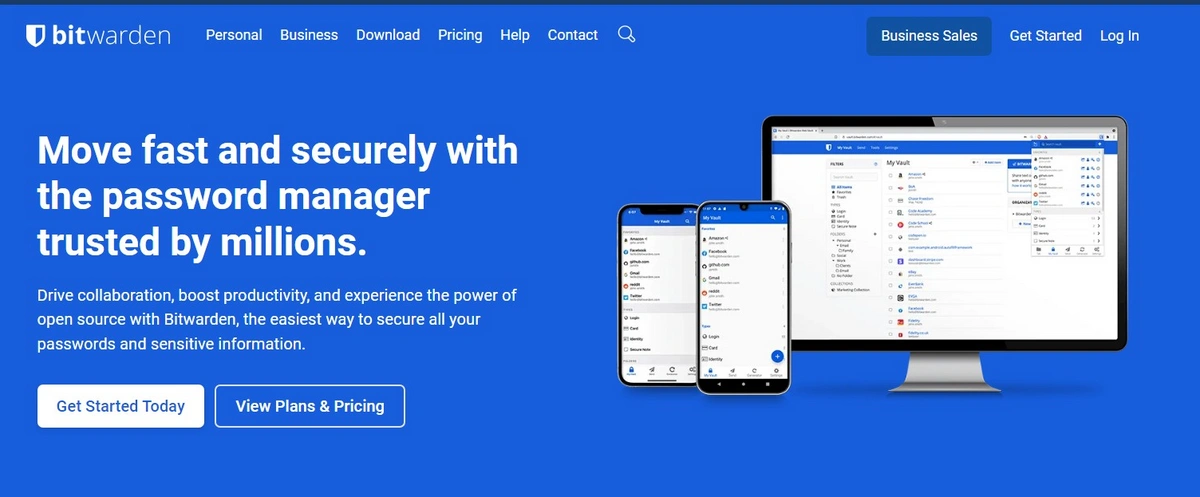 Bitwarden is a Keeper alternative that shares similar features like strong encryption, password generation, unlimited device syncing, and zero-knowledge encryption. Security and ease are two top priorities for Bitwarden, which are essential features of password management tools.
While Bitwarden offers personal and family pricing plans, they also offer business pricing starting at $3.00 per user/month.
Bitwarden Features
Bitwarden Send: This feature allows you to share encrypted information with another person, like passwords or credit card details, and set a self-destruct timer for it.
Secure Notes: This feature serves as secure storage for other types of information that are not passwords.
Vault health reports: These reports analyze the strength and security of your passwords and provide a score for each one. Using this data, you can mitigate future security concerns involving passwords.
#6. NordPass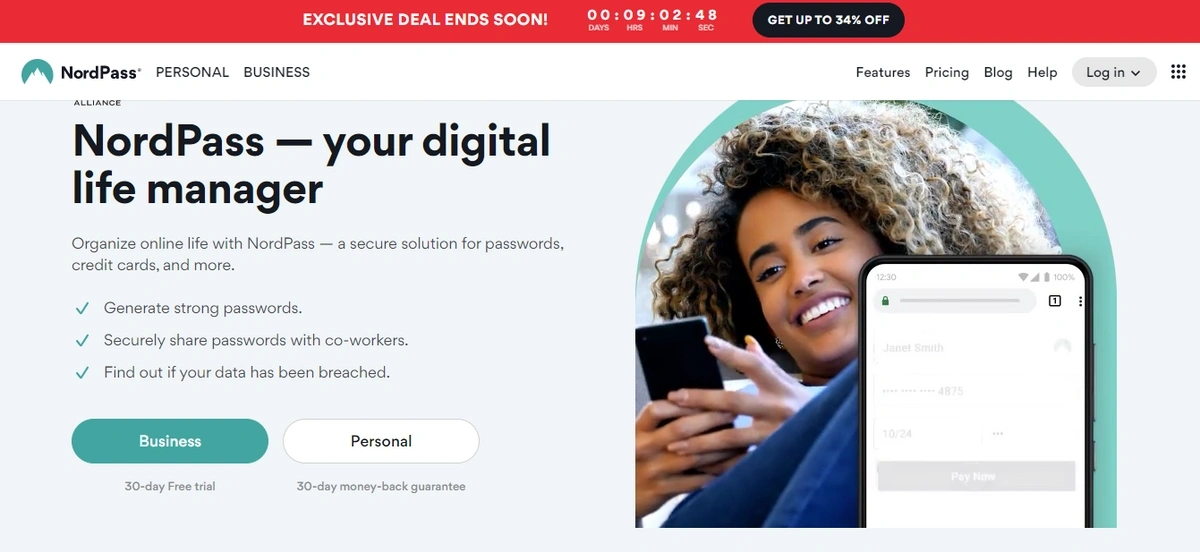 This alternative provides cross-platform access while generating and storing passwords with no storage limits. In addition, it helps store sensitive information securely and organize it into folders for easy and quick access.
NordPass offers a free version for personal accounts and a paid premium account. As for business pricing, the two-year plan costs $3.59 per user/month with a free trial.
NordPass Features
Unlimited password, credit card, and note storage: There's no storage limit to the number of passwords or other data you can store in your vault.
Data breach scanner: The scanner alerts you when emails or passwords have been found in a data breach.
Multi-factor authenticator: NordPass uses time-based one-time password (TOTP) and universal two-factor (U2F) authentication to secure your data.
#7. KeePass

KeePass is an open-source alternative. Like Keeper, it has a strong password generator. It also auto-fills forms for easy login and imports logins from browsers. Unlike Keeper, it's a free option for protecting your passwords.
KeePass can be used for both personal and business purposes. If you're looking for free password manager tools for a large team, this is a good option. However, it will require more technical expertise than other password managers.
KeePass Features
Random password generator: KeePass generates strong passwords and allows you to determine the parameters of those passwords.
Multiple user keys: One master password can be used to decrypt the database. You can also use key files, which are often more secure than master passwords.
Import and export from many file formats: This allows data from other programs to be easily imported into KeePass and its database to be used in other applications.
Which Password Manager Tool Is Right for You?
A password manager tool can help you protect your organization's sensitive data. However, all organizations are different—the right password manager for you will meet your specific needs.
For example, you'll want to make sure the manager is compatible with the apps and services you currently use. You'll also want to choose a tool that fits your security requirements and budget.
Take TeamPassword for a Test Drive Today
If you're looking for a solution that's designed specifically for teams with strong encryption algorithms, customizable access controls, and responsive customer support, TeamPassword is a great choice. Try TeamPassword today to see how it can help your team securely store, share, and manage your passwords.