As an avid internet user, you have numerous online accounts requiring passwords. It might be tempting to use the same password for multiple accounts or opt for simple, memorable passwords. However, this jeopardizes your online security, as a hacker who gains access to one account can exploit it to infiltrate your other accounts.
A secure and feature-rich password manager is essential for most of us. Yet, selecting one from the top 20 options can be challenging.
In this guide, we compare three popular password managers, aiding you in making the appropriate decision for your specific use case.
[Table of Contents]
What Is Bitwarden?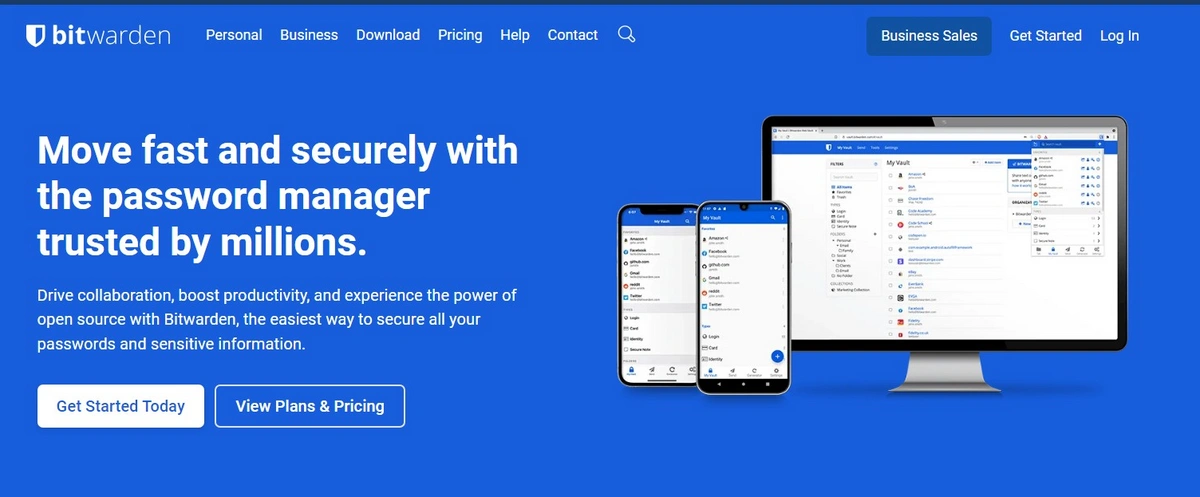 Bitwarden is an open-source password manager, meaning anyone can review its source code. This boosts security as experts can quickly find vulnerabilities the dev team may have missed or ignored.
Bitwarden is affordable for all budgets, with pricing plans for individuals, families, and businesses. It has a free plan with some limitations, perfect for users who want to try it out before committing.
What Is 1Password?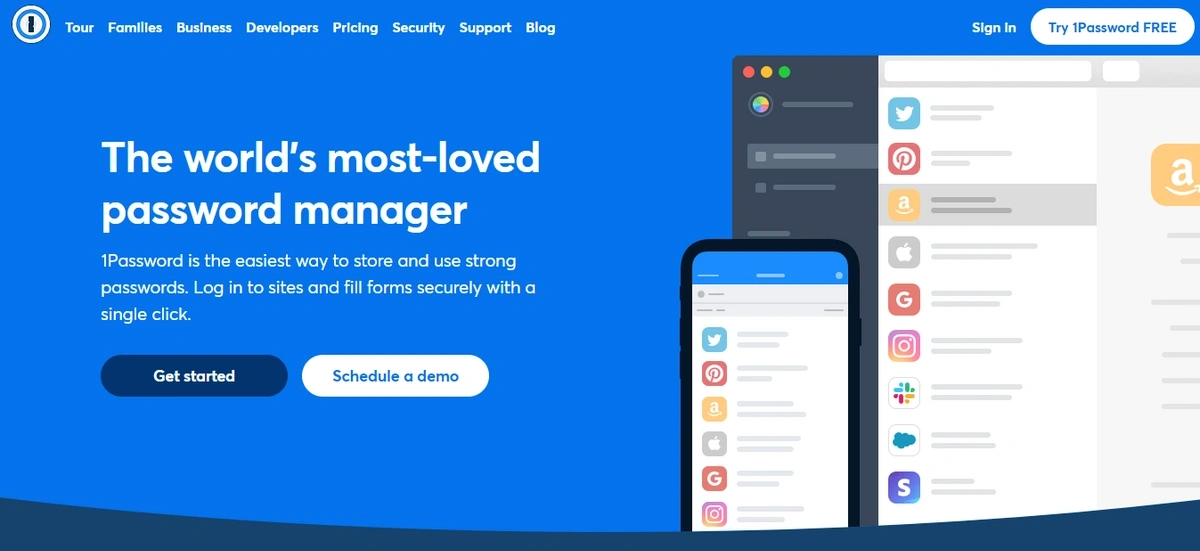 1Password is used by individuals, families, and businesses of all sizes who want to protect their digital identities and streamline their login process across different devices and platforms. It uses PIN and biometric unlock options to make accessing your vault fast and secure. 1Password uses Watchtower to scan stored passwords and alert users of those that have been compromised.
What Is TeamPassword?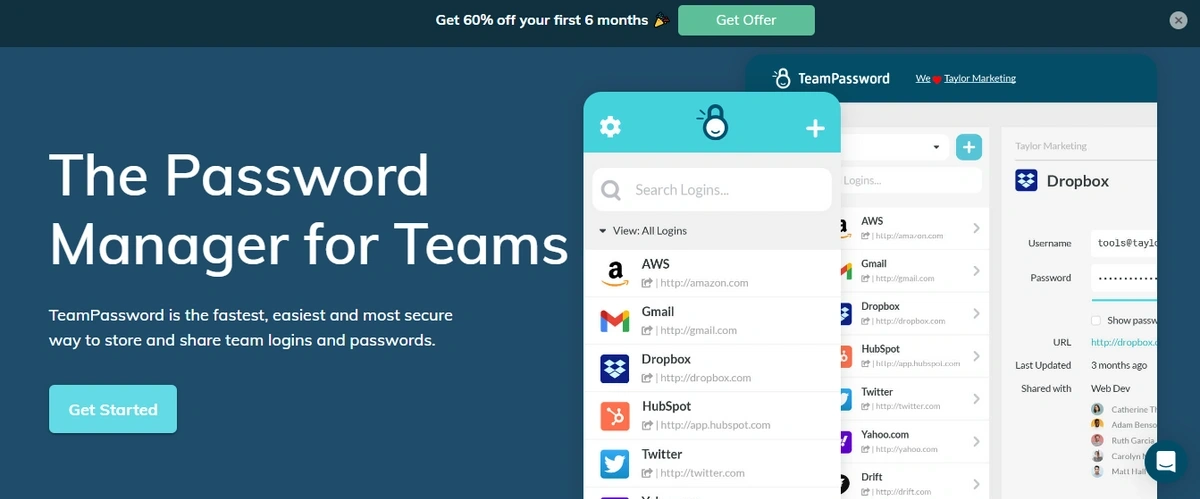 TeamPassword is a password manager tailored for teams and organizations. It has a user-friendly interface that simplifies the storage, organization, and management of passwords. Onboarding is easy and users can utilize features such as autofill and browser extensions to streamline the login process and save time.
TeamPassword offers unlimited, customizable Groups (folders) to organize passwords and share them with only those team members who need them.
TeamPassword offers competitive pricing plans, making it accessible to businesses of all sizes.
Bitwarden vs. 1Password vs. TeamPassword: Features Overview
Here's a chart comparing the most important features of Bitwarden, 1Password, and TeamPassword.

Usability
Password managers are meant to make life easier by managing passwords safely. If they are complicated or confusing, team members may not adopt them, instead relying on methods like email and text message. A good password manager can be seamlessly integrated into an employee's workflow.
Admins need to have sufficient visibility to monitor password security and take informed action if necessary.
Bitwarden
Bitwarden has a straightforward user interface, with passwords separated into folders. It also has sections for different types of records like cards or secure notes to help keep things organized.
Bitwarden officially supports Linux and the Tor browser, which might make it one of the only usable password managers for certain users!
1Password
1Password offers a lot of options and customizability, which makes it score high on usability for certain users. Other users, however, have criticized its complexity. Employees find it too convoluted, and as a result, adoption has been an issue. Overall, if your team is more tech-savvy, 1Password is a great option. If you don't need fine-tuned admin controls and customization, you may want to look elsewhere.
TeamPassword
TeamPassword has the simplest UI of the three. Members will see a list of records and a dropdown menu for Groups. The browser extension allows you to quickly search for whatever you need. TeamPassword's aim is to make a password manager so simple that your team will easily adopt and use it without allotting extra onboarding time.
Device Compatibility
For device compatibility, 1Password and Bitwarden go neck-and-neck. They both offer full desktop apps for Windows, MacOS, and Linux, as well as extensions for all major browsers.
TeamPassword offers browser extensions for all major browsers but does not have a desktop app.
Password Sharing
Bitwarden
Bitwarden lets you share passwords with other Bitwarden users by adding it to your organization's vault. As an admin, you can control whether people can edit or only view passwords.
1Password
1Password allows you to share records with anyone in your organization, and admins can set up folders and control who has access to what. Additionally, 1Password allows you to share records with people who do not have a 1Password account.
TeamPassword
TeamPassword is built for sharing. Your records are organized into custom groups such as Marketing, Sales, or Dev Team. Adding or removing users from these groups is a simple process that can be accomplished in just a few clicks. Additionally, users can contribute to one or multiple groups by adding a record they've created. However, users must have a TeamPassword account with your organization to share passwords.
Security
Bitwarden
Bitwarden uses AES-256 encryption and has a built-in breach check for passwords. It offers various 2FA options like TOTP, FIDO U2F security keys, and Duo Security to enhance user account security. Bitwarden can be configured to use biometrics to unlock your vault.
1Password
1Password also uses AES-256 encryption and Watchtower, which scans your password vault to see if it's password have been leaked in breaches. 1Password supports biometric vault unlock as well as a variety of 2FA options including security keys like Yubikey.
TeamPassword
TeamPassword utilizes AES-256 encryption and provides Google Single Sign-on for all users, irrespective of their plan. It incorporates backend fraud analytics and includes audit tools for admins to monitor user activity. Admins can enforce mandatory two-factor authentication for their organization.
Support
Bitwarden requires you to contact them by email. As an open-source password manager, Bitwarden has a wealth of information on its community forum.
1Password requries you to contact them by form. They have a support hub and community form where many questions have been answered.
TeamPassword offers live customer support Monday through Friday, 9AM to 7PM EST, averaging a sub-five minute response time. They are also available by phone and email.
Pricing
Pricing probably plays a significant role in your decision. If you're a solo user, Bitwarden makes the most sense. It offers a free version with limited features, or a premium version for $10/year.
1Password has a variety of plans for every situation. If you need all their business features, you'll be paying $7.99/user/month.
TeamPassword has one plan which includes all their features.
Bitwarden Pricing
(Annual)
$0 to $5 per user / month
Teams: $3 per user / month billed
Enterprise: $5 per user / month
1Password Pricing
(Annual)
$2.99 to $7.99 per user per month
Teams Plan: $19.95 per month
Business Plan: $7.99 per month per user
TeamPassword Pricing
(Annual)
$1.66 to $6.34 per user per month
Keep Your Passwords Secure With TeamPassword
1Password, Bitwarden, and TeamPassword have individual strengths depending on your needs. 1Password provides precise control over security and admin insights, whereas Bitwarden is cost-effective, and its open-source aspect appeals to some users.
TeamPassword is specifically designed for teams and businesses, with tailored pricing and features.
We have emphasized the critical differences between these password managers as they relate to businesses. Armed with this information, you can confidently make an informed decision that aligns with your needs and requirements.
Begin your journey with a free trial of TeamPassword today!
Bitwarden vs. 1Password FAQs
Is 1Password Better Than Bitwarden?
1Password is the better choice if you need in-depth admin controls and security features for your organization. Bitwarden gives you more bang for your buck. Make a list of features you need and features you'd like to have, and see which password manager better aligns with your use-case.
Are Bitwarden and 1Password Safe?
Both Bitwarden and 1Password use secure, military-grade AES 256-bit encryption.
Bitwarden's open-source design makes it either more or less secure, depending on who you talk to. Security experts may discover and resolve vulnerabilities more quickly, since anyone can examine the code.
1Password advertises its security features such as Watchtower which alerts you of breached passwords in your vault, and its ability to regularly wipe your clipboard so that someone isn't able to paste the last password you copied.
How Do You Choose a Password Manager?
Do you require fine-grain admin controls? A user-friendly product that your team can easily navigate? Or are you solely focused on finding the best value for money?
If you're seeking a free password manager for personal use, Bitwarden is the clear winner. On the other hand, if securely and effortlessly sharing passwords with your team is your top priority, TeamPassword is a strong competitor.
Prioritize your requirements, compare features, and make the best decision for your business - only you can determine what's right for you.