A password manager is a necessary tool that enables users to utilize strong, unique passwords for private accounts without the need to remember them or write them down. However, choosing a password manager for small businesses is not the same as selecting one for personal use.
That's because a personal password manager while offering sufficient password security, is more or less also a tool for convenience. A password manager for small businesses offers additional features and benefits that can not only improve data security within the organization but also help teams be more productive and facilitate collaboration.
[Table of Contents]
The Importance of Small Business Password Management
Most employees are aware of password security best practices, but most employees don't follow the rules. Of course, the problem is that creating a unique password for each service and remembering them is challenging — especially when the passwords need to be changed on a regular basis! But, it only takes one weak link to compromise an entire network.
Password managers are essentially a password book that's locked with a master key that only the employee knows. Instead of remembering 147 different passwords (the average number for a small business team), they only have to remember a single password. The password manager handles the rest by recalling passwords and even auto-filling them in browsers.
In addition to managing passwords, password managers can easily generate random 20-character passwords on demand. Even with a fast hashing algorithm like MD5, a genuine 20-character password would take an enormous amount of time to crack using brute force methods. Passwords can even be customized to meet unique password requirements for various web services.
Password managers aren't perfect. In fact, a recent audit found that several password managers exposed some passwords in a computer's memory when the apps were in "locked" mode, which could enable a hacker to access them. Despite these vulnerabilities, experts and ethical hackers agree that using a password manager is always a better bet.
4 Features to Look for in a Password Manager
1. User-friendly interface
If the password manager is too complicated, your team won't use it. Plus, password managers should make your life simpler. You shouldn't need to alot extensive onboarding and training just so your team can safely and efficiently access passwords.
2. Robust security
The bare minimum is AES 256-bit encryption, with your account password being stores locally on your device so the password manager never sees it.
Multi-factor authentication support through an authentication app is a must.
Admins should have access to logs and reports showing which logins are being used, which ones aren't, and when your shared logins are being updated to quickly spot any abnormalities.
3. Multi-device support and browser extensions
Password managers should make your life easier and allow you to work quicker. You never want to be locked out of an account, so the password manager should work with all of your devices. Browser extensions allow you to access websites with one click.
4. Secure password sharing
Many teams and families use spreadsheets or even the odd email and text to share passwords. The most secure password manager in the world won't help you if your passwords are still scattered across the web in unsecured locations. That's why you should choose a password manager that allows you to share passwords without leaving an encrypted environment.
Business vs. Personal Password Managers
Password managers are a great way to manage each employee's passwords, but they fall short when it comes to sharing passwords between employees. While it's possible to simply share a password and have each employee save it, the process breaks down when the password is changed and that change needs to persist across all of the employees that use it.
Many companies use password-protected spreadsheets to share passwords, or even worse, Google Sheets that are protected only by an obscure URL. If an attacker gains access, these spreadsheets can quickly turn into a massive data breach impacting every online service on the list. Therefore, these solutions should be avoided at all costs.
7 Top Password Managers for Small Business
#1. TeamPassword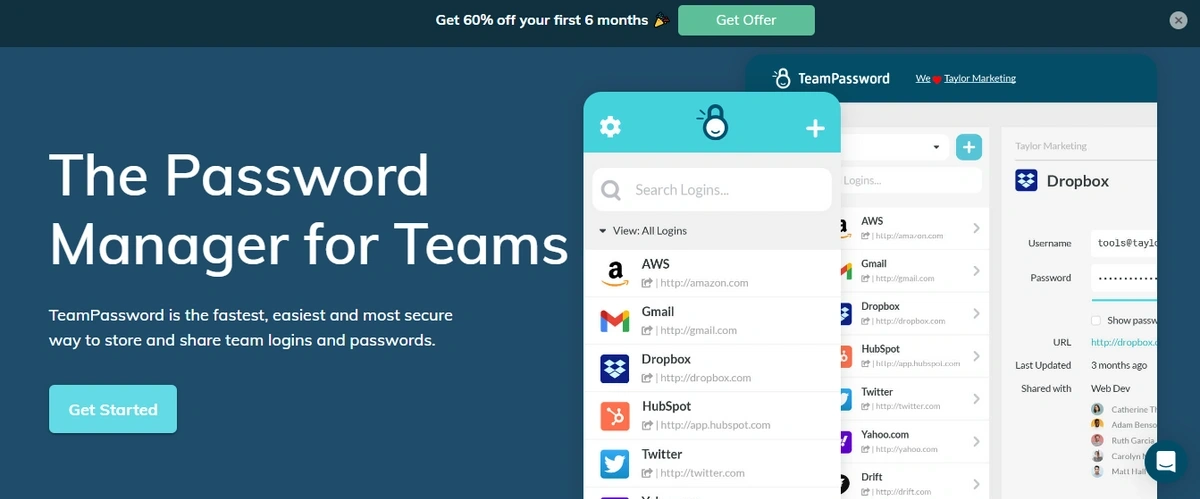 TeamPassword is an excellent choice for collaborative teams, including agencies managing multiple client passwords and small businesses aiming to enhance security across various departments.
One notable feature of TeamPassword is its user-friendly interface, promoting effortless navigation. This streamlines your daily workflow, simplifies onboarding for new team members, and optimizes password management.
TeamPassword is a focused tool, providing essential features without unnecessary complexities. Moreover, it offers cost-effective solutions, starting at just $1.66 per user per month for the first six months on yearly plans. After the initial period, the price increases to $4.16 per user per month, with additional discounts based on plan size.
Accessible on all devices: Log in once to access your tools and services from any device.
Effortless adoption: The user-friendly interface allows you to utilize all features without any hassle.
Secure password sharing: Share passwords with team members or groups with ease and revoke access as needed.
Data protection: Advanced security features, including encryption and two-step verification, safeguard your data.
#2. Dashlane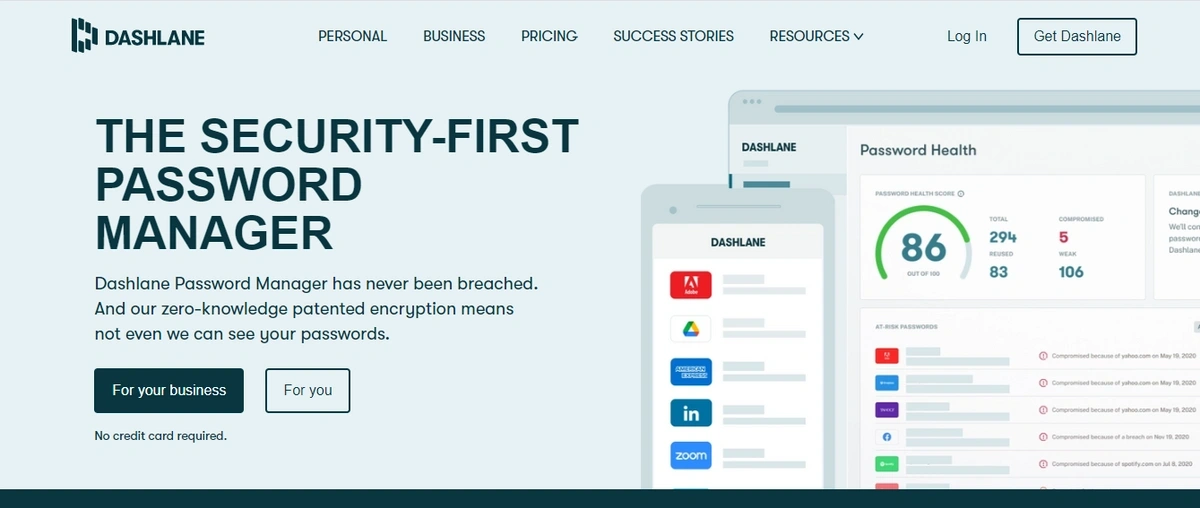 Dashlane offers various features like password generation, sharing, autofill, and accessibility options to improve online activity organization, speed, and security. It also includes dark web monitoring to notify users about data breaches.
Dashlane boasts an unbreached record, making it attractive to users seeking robust security features.
Pricing for Dashlane begins at $2.00 per seat per month for up to 10 users. Larger teams can choose the "Team" package starting at $5.00 per seat per month, while business features are available at $8 per seat per month.
Looking for a Dashlane alternative? We discuss that here.
Dashlane Features
Password changer: Quickly update passwords on supported websites with just a few clicks.
Dark web monitoring: Scans the internet for signs of data compromise and alerts you to take action.
Secured notes: Store sensitive information like passport numbers or business details within the app and share only with trusted individuals.
#3. LastPass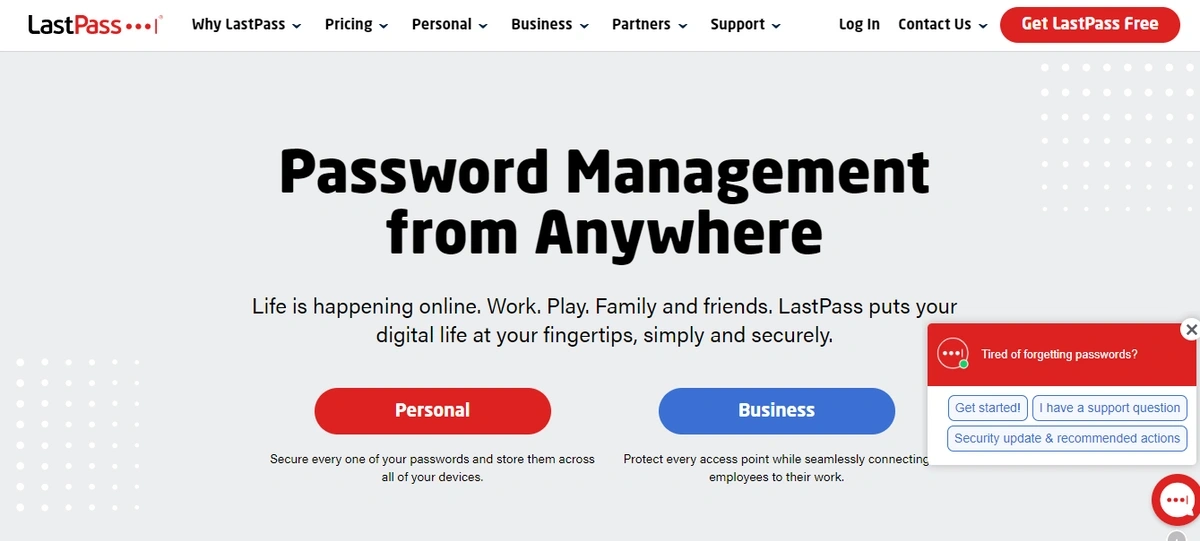 LastPass is the biggest name in the password manager game, offering personal and business plans with browser extensions for multi-device compatibility. It enables safe password sharing with others.
LastPass promotes password hygiene through its authenticator app, providing two-factor authentication for your LastPass account and supported apps. It also includes dark web monitoring and additional security features.
In 2022, LastPass faced criticism due to a security breach that exposed user vault backups to cybercriminals. Although the vaults were encrypted, the breach raised concerns considering the platform's past security incidents.
LastPass offers an annual plan for teams at $4.00 per user/month, limited to 50 users or less. For teams exceeding 50 users, the cost increases to $6.00 per user/month annually. Optional add-ons are available at an additional cost.
LastPass Features
Enhance security: Use password generators and go passwordless.
Local encryption: Data is encrypted at the device level.
Multi-factor authentication: Choose authentication levels for each system or tool beyond 2FA.
#4. Keeper

Keeper stands out in the market due to its reputation for simplicity and cost-effective business pricing plans.
Keeper provides flexible pricing options to suit varying business needs. The annual Business Starter plan is available at $2.00 per user per month. If your team exceeds five users, the Business plan is priced at $3.75 per user per month. For enterprise-scale requirements, custom pricing solutions are available to accommodate specific demands.
Keeper Features
Auto-fill capabilities: KeeperFill, a user-friendly auto-fill tool, automatically populates login forms on websites and within applications, enhancing convenience and efficiency.
24/7 support: For teams venturing into password management, Keeper offers round-the-clock support, ensuring assistance is readily available whenever needed.
Simple admin console: With Keeper's intuitive admin console, users gain access to a centralized hub where they can easily manage tasks such as user removal, team creation, activity report viewing, and more, simplifying administrative operations.
#5. 1Password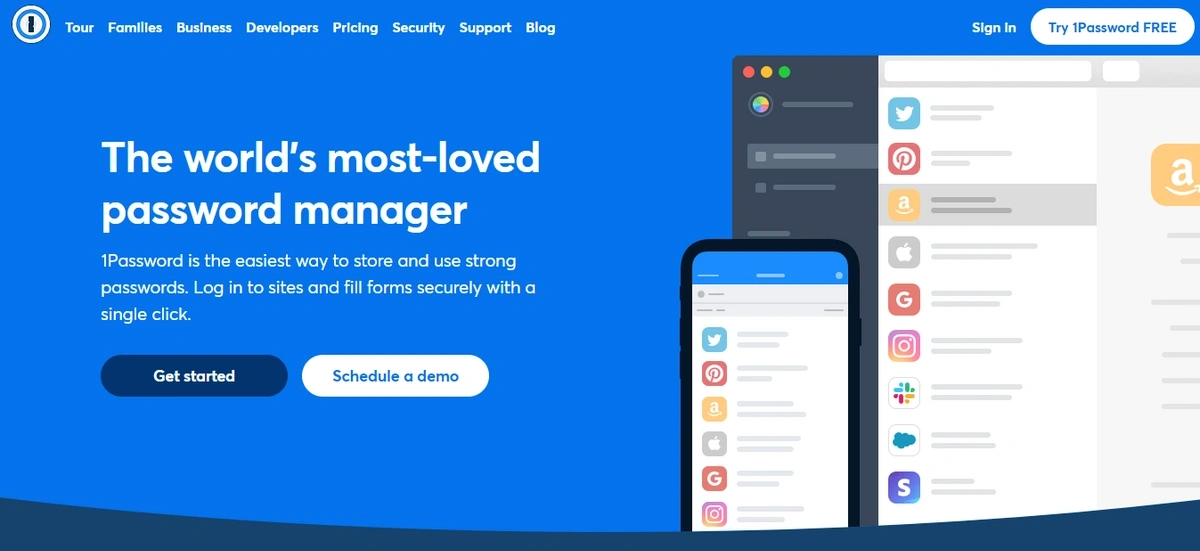 1Password presents users with an array of options and a high degree of customizability, catering to specific user preferences and boosting its usability for many individuals. However, it's important to note that some users have voiced concerns regarding its complexity. In particular, employees have found it to be somewhat convoluted, leading to difficulties in adopting the tool. Considering this feedback, 1Password proves to be an excellent choice for teams possessing a greater level of technical proficiency. On the other hand, exploring alternative options may be more suitable if your requirements do not necessitate intricate administrative controls and extensive customization.
1Password Features:
Single sign-on capabilities: SSO enables users to log in to all of their apps and services with one set of credentials.
Advanced Protection features: 1Password's Advanced Protection enables businesses to customize features such as security policies. It also enables users to pull unique reports.
Robust security: 1Password's security features include end-to-end encryption and biometric access capabilities.
1Password offers an annual business plan for $19.95 per month for up to 10 team members. Or, you can choose the Business plan, which costs $7.99 per user/month with annual billing.
#6. KeePass

If you can put up with its interface and have the technical knowledge to set it up, KeePass provides a robust set of features while remaining free and open-source.
With KeePass, users can take advantage of a powerful password generator and form autofill functionality, as well as the capability to import logins from web browsers. While it may require a slightly higher level of technical expertise compared to other password managers, KeePass stands out as an excellent choice, particularly for teams seeking a cost-effective password management solution.
One of the standout qualities of KeePass lies in its highly customizable functionality. Users can configure the settings of KeePass to align with their specific requirements. Furthermore, KeePass securely stores all passwords locally on the user's device, granting complete control over personal data. By adopting local storage, KeePass ensures that user data is not stored on any third-party servers, thereby enhancing overall security.
KeePass features:
Open-source: Verify the correct implementation of security features.
Multiple user keys: Employ a master password or key files to decrypt the database, bolstering security.
Flexible import/export: Seamlessly import data from various file formats and utilize the KeePass database with other applications.
#7. Enpass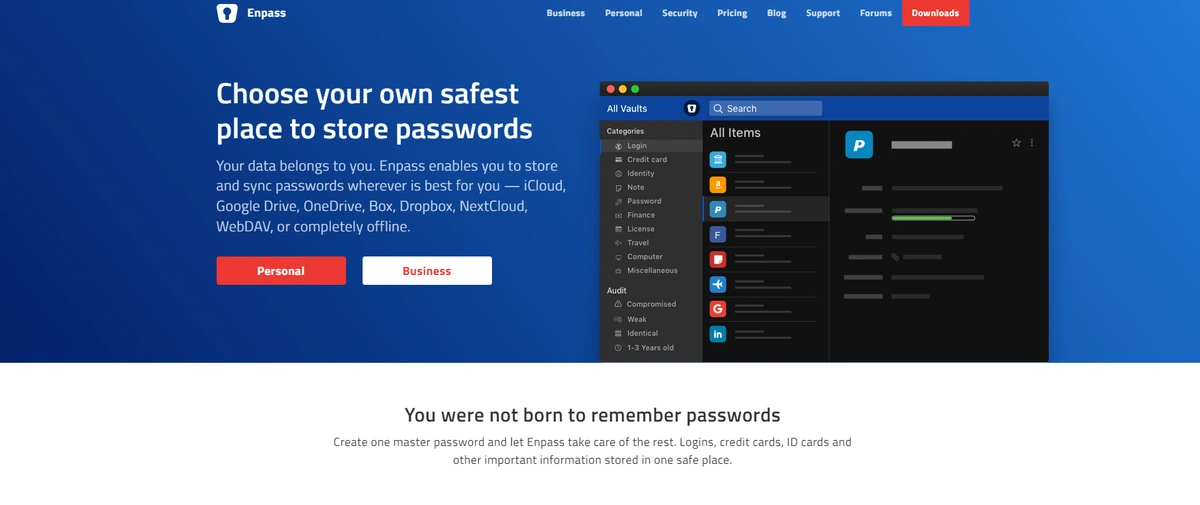 Enpass serves as an offline password manager that emphasizes safeguarding your passwords. With Enpass, you can conveniently store and synchronize your passwords across various cloud services such as iCloud, Google Drive, and Dropbox. By encrypting your passwords within vaults, Enpass ensures that only you can access them using your master password.
Furthermore, Enpass offers a range of features designed to manage your passwords and bolster online security. It enables you to generate strong passwords, effortlessly log in to applications and websites with a single click, conveniently autofill payment details, conduct password audits, categorize your passwords into multiple vaults, and utilize templates for storing different types of information.
Enpass presents flexible pricing options tailored to different user needs. The pricing starts at $1.99 per month for individual users, while the Enterprise plan, priced at $3.99 per user per month, encompasses automatic user provisioning to cater to organizational requirements.
Enpass Features:
Offline password manager
Microsoft 365 Integration
Advanced corporate policy enforcement available on the Enterprise plan
Secure Your Team's Passwords With TeamPassword
While the designers of TeamPassword place a strong focus on security, they also want to create a password manager for small businesses that's easy to use, fast, and ideal for teams of any size.
TeamPassword makes it easier than ever to not only create strong, unique passwords for each private account but also to keep all logins safe and in sync. This ensures that all team member can quickly and easily access an account whenever they need to, from any location.
Being able to access data and accounts with ease prevents the frustration and loss of productivity that occurs when team members are locked out of an account or can't remember a password. With a shared password manager like TeamPassword, you can eliminate downtime and keep projects moving on schedule.
The Google Chrome browser extension also improves efficiency via cloud-based platform, giving users seamless, 1-click access to logins.
TeamPassword was designed for small businesses and eliminates all the unnecessary features that are often found on personal password managers but not much use to small businesses. This helps to keep costs down, making it a cost-effective solution for small businesses in any industry. There are a range of pricing plans to choose from depending on the size of your teams, ensuring you don't pay extra for what you don't need.
Small Business Password Management FAQs
What Is the Best Way to Manage Passwords?
Password managers are widely regarded as the best way to manage passwords effectively. These secure tools store and encrypt your passwords in a centralized vault, allowing you to generate strong, unique passwords for each online account without the burden of memorization. With a password manager, you only need to remember a master password to access your vault. This not only enhances security but also saves time and effort. Password managers often offer additional features like autofill, password sharing, and dark web monitoring, further bolstering your online security. By using a reputable password manager, you can streamline password management, strengthen your accounts, and significantly reduce the risks associated with weak or reused passwords.
Are Password Managers Secure?
Password managers are generally considered to be a secure solution for managing passwords. They employ strong encryption algorithms to protect your sensitive data, making it extremely difficult for hackers to access your passwords. Additionally, password managers often utilize advanced security measures such as two-factor authentication and secure password sharing protocols.
However, like any technology, there are potential risks to consider. One potential vulnerability is if the master password is weak or compromised, as it grants access to the entire password vault. It is crucial to choose a strong, unique master password and avoid reusing it elsewhere.
Another risk is the possibility of a security breach at the password manager's end, although reputable providers employ stringent security measures to mitigate this risk. Overall, with proper security practices such as strong master passwords and regularly updating the password manager software, the benefits of using a password manager for improved password security outweigh the potential risks.
How Much Should You Pay for a Password Manager?
The cost of a password manager varies depending on the features and level of service offered. However, it's important to note that investing in a reliable and secure password manager is crucial for safeguarding your digital identity. While there are free options available, premium password managers typically provide enhanced security features, cross-device synchronization, and priority customer support. Prices can range from a few dollars per month to an annual subscription. It's advisable to assess your specific needs, consider the features provided, and choose a password manager that aligns with your budget and security requirements. Remember, the value of protecting your sensitive information and simplifying password management far outweighs the cost associated with a reputable password manager.
How Do You Choose the Right Password Manager?
The seven password managers we presented each have strengths and weaknesses. We suggest making a list of must-have and nice-to-have features. Do you need advanced admin insights to track user activity? Is your primary concern that your team won't use a password manager if it's too complex? Is there a specific SSO integration you require? Make your list and do the research. Most password managers offer a free trial - no credit card required. Take advantage of the free trials and test things out with your team. Only you can choose the perfect password manager for your situation.