Meet Tom. Tom works at Acme Consulting, a 25-person company. As the senior "tech guy" at Acme, Tom wears a number of hats, including having responsibility for IT and security. Tom tries his best to protect his company, but he's got his share of problems (and his colleagues don't always help out), as we'll see in our ongoing series Tom's TaleIf finding qualified employees weren't hard enough, the ordeal of getting them up and going can be even more painful than being understaffed in the first place.

Tom thought hiring three techs at once would streamline the training process-until they were all eagerly seated in front of him. He looked down at his to-do list and found himself wondering if it was too late to change his mind.


Alas, his CEO had determined that a gigantic security project was supposed to be implemented by next week (because obviously Tom had nothing important to do and was begging for huge last minute projects.) To put it mildly, Tom needed the extra employees to get it done, so he resisted the urge to bolt from the building.

Instead, here's how Tom got his new techs up and running quickly, and - more importantly - helping him chip away at his to-do list and appease his demanding (and oblivious) CEO.
Consider the learning needs of each employee.

He started by asking them how they best process new information.





This information wasn't particularly helpful right away, but Tom knew that, once it would come to delegating tasks, their differences would actually be a blessing.
Follow a training plan.

Structure is important in any learning environment, so Tom took a moment to break down the employee training program into sections so that he and his employees knew what was left. A training plan also helped them see how the different functions and responsibilities of the department integrated with one another.
Identify the training goals.

It was important for his employees to have an idea of what they were expected to learn by the time their training process was over. Tom made sure that the goals were clear to each employee so that there wouldn't be any confusion.
Track and Consider Cross Training Opportunities.

On top of his impending deadline, several of his sub-departments had spent a week short-staffed, and they desperately needed help to function with their everyday tasks.

Tom watched his new employees like a hawk and took note of how well each employee absorbed different aspects of the training. His tech department ran smoothly because he knew how to best delegate tasks. Odds were that if they picked up on something quickly, they would be able to do it quickly once training was over. If Tom needed anything, it was efficiency.

Cross training is training an employee to do a different part of the organization's work. Because Tom had been paying such close attention to each employee's strengths, it was relatively simple for him to use this technique to speed things along.





Distribute sensitive passwords and clearances safely and quickly.

Tom is a security expert, so using caution as he determined who would need access to various passwords was at the top of his mind.

There had been a time that Tom thought a spreadsheet was the most efficient way to store/distribute passwords, but he quickly realized that - because every employee didn't need access to every account, or they each needed different permissions depending on their clearance level, it didn't make sense to have them all stored on one live document.

Yet, distributing passwords individually wasn't only time-consuming, it had to be monitored and maintained. When passwords changed, each employee would need to be alerted so they could change their own record.

Fortunately, Tom had used this logic to implement TeamsID, a company password platform that allowed him and his admins to give different users different types of access to company passwords. When passwords changed internally, TeamsID automatically updated the information for each employee's account without the need to change it individually.

It met his needs for security, accessibility, and efficiency, and it made training significantly simpler.

Take it from Tom.

You can make your life, and the lives of your management team, easier by implementing a good employee training program that:


Considers the learning curve of each new employee
Tracks and considers individual progress during the training
Utilizes cross training techniques
And has the best resources to support your training and maintain company security.


Your employees, and your sanity, will thank you.
Learn More About TeamsID

If you are working in an office that uses web or cloud services, TeamsID helps you ensure that your data is secure and your employees are more productive. All passwords, company as well as personal, can be managed, updated, and shared with only the people who need them. Permissions can be set on a team or individual level, so you never have to worry that the wrong people are seeing information. No more "lost password" calls to IT. No more emails or calls between employees regarding passwords or password changes.

See how TeamsID works, and you'll see at how it made Tom's training process infinitely easier.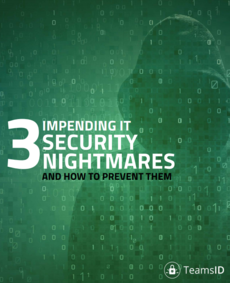 Read more about Tom's IT Security Nightmares, and how they can be eliminated in our Free eBook, 3 Impending IT Security Nightmares, and How to Prevent Them. Click here to download it now.