Although TeamsID is a new approach to password management, our company SplashData has been securing passwords for millions of customers since 2005. Over that time, we've worked tirelessly to provide our customers with powerful password solutions that enable users to be more productive. We applied the same approach to our TeamsID 3.0 update, which includes features that will help teams get more work done, be more productive and ultimately be more secure.

Our new features include the following...
Import users by CSV.

Setting up your entire organization with a new software tool can be labor intensive and time consuming for IT Admins. To alleviate the stress of onboarding large work teams and save time during onboarding, TeamsID is now equipped with the option to import users by uploading a CSV file. Learn how to import users by CSV.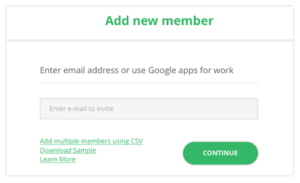 You can also import TeamsID users by using our Google integration.
Custom Record Types.

TeamsID might be a password manager, but there's no limit to the types of records your team can secure. Customers use TeamsID to manage an assortment of record types like credit card information, serial numbers and even birthdays. TeamsID was already equipped with 25 different record types, but now there is no limit to the types of records your organization can manage. With custom record types, TeamsID users can create any record type imaginable. Once a new custom record type is created, that record type will be available for use by the entire organization.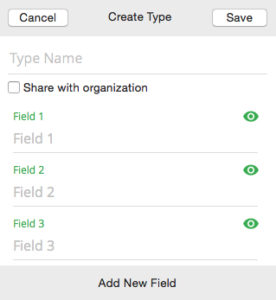 Secret Passwords.

In most cases, outside contributors like contractors or agencies will need access to your organization's tools. Sharing your login credentials with these outside contributors creates major security vulnerabilities for your organization. For example, once an agency's services are no longer needed, the login credentials they have access to would need to be changed. To automate this process and better secure our customers, we've added secret passwords. Secret passwords allow organizations to grant access to their tools without actually sharing their passwords, making them secret. When their services are no longer needed, the organization can just remove their access.



SAML Integration w/OneLogin.

IT Admins can now securely deploy TeamsID to all their teams and manage accounts by using seamless account authentication through our SAML integration with OneLogin. This SSO IdP Platform integration provides IT Admins full control over authorization and authentication of TeamsID user accounts. We will soon be integrated with okta, Centrify, DUO and Ping Identity.
Password Policy.

The strength of one's passwords can be the difference between being secure or vulnerable to hacks. And although people are aware of this, they still choose vulnerability over security, just look at the 50 worst passwords of 2016. With the TeamsID password policy feature, IT Admins can force all users to abide by password rules like length, symbol, case or number requirements. This way, IT Admins will have the utmost confidence in the strength of their organization's passwords.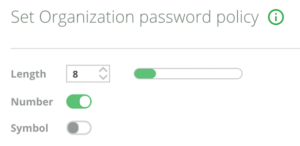 Selecting Records in Bulk
.

The average Internet user has a minimum of 27 web logins, which means a team of 10 people probably has more than 200 records. If you need to delete or favorite a group of those records, doing it individually would not only be time-consuming, but annoying as well. TeamsID users can now manage their records in bulk with our new bulk record selection tool. Find out how to select records in bulk.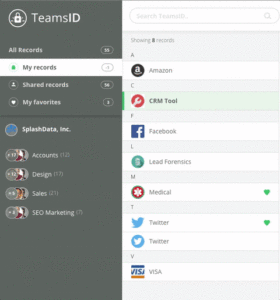 Are you interested in having all your passwords in one place? Try TeamsID 3.0 for FREE today!