We're excited to share with you what we've been working on for the last several months. Our goal is to empower teams and make managing passwords easy and safe for everyone. And today, we're a big step closer to that goal with an all new version of TeamsID.



Why a new version of TeamsID?
Teams of people working together to achieve a shared goal--this is what drives most of human achievement. But the logistics of collaboration can still be difficult. Even with solutions like email, group messaging, and shared documents, sometimes you run into roadblocks. Do you find your team members asking each other for passwords or server settings or account numbers and then sending this sensitive information by email or IM? It's a productivity drain, it's frustrating, and most importantly, it's not secure. We started building TeamsID last year to solve this problem, and we got great feedback from hundreds of early adopter customers. We've used that feedback to create this all new version of TeamsID.

What's new?
TeamsID is a powerful product with a lot of features, and in the prior version of TeamsID it could feel a bit overwhelming to get started. The new TeamsID is redesigned so team members can get on board quickly. Advanced features unfold gradually only when you need them. It's clearer how to find the information you want.




1) A simple way to create and share records
You add a record and then simply decide if you want to share it with another member and/or a team. If you decide not to share a record, it's your personal record. This gives you the power to decide immediately how information needs to be shared.




2) Cleaner record view
A new top bar highlights all the features you need for a login or other record. Apart from being able to edit or delete the record (if you have the permission), you can generate a one-time shared link, make a copy, view activity or comment on the record. Record view shows the labels on the left along with the values on the the right. The new share section at the bottom allows you to manage how a record is shared with other users and/or teams.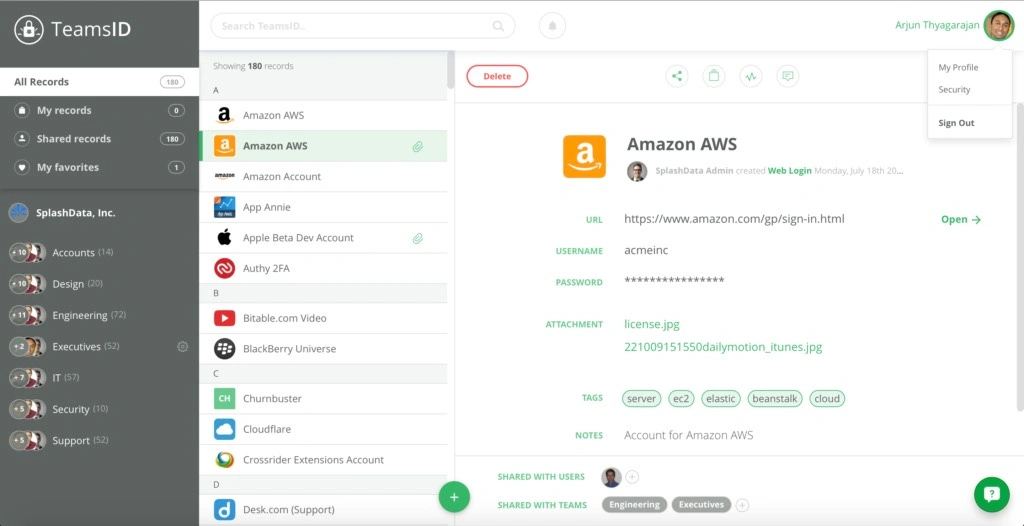 3) Profile picture and making collaboration visual
A profile name and photo helps make TeamsID more personal and helps your team quickly identify you. Profiles show up throughout the application - for example, when choosing who has access to a team or a alongside a comment on a record. It's best if your photo is square and at least 128x128 pixels. You can change your profile photo from the 'My profile' tab.

4) Improved filters
When you look at the left panel menu, you'll see a cleaner list of filters that present different views of your records. This improved navigation gives you access to everything you need quickly. The views are:


All records - all the records you have access to
My records - records that are your personal records and not shared with anyone else
Shared records - records that you have shared or that have been shared with you; these can be records directly shared with you or with a team that you're a part of
My Favorites - records that you have marked as a favorite for quick access
Teams - list of teams that you have access to (plus the number of records in each team)


5) Two-factor authentication and trusted devices
Two-step verification is an optional but highly recommended security feature added in this new version of TeamsID. Once enabled, TeamsID will require a six-digit security code for login. You can choose to receive your security code via SMS, phone call or using an authenticator app. After your enter the code, you will be presented with a 'Trust' option when signing in. If you choose to trust the computer or mobile device you're using, from that device in the future you can access your account settings without an additional security code. Read more here.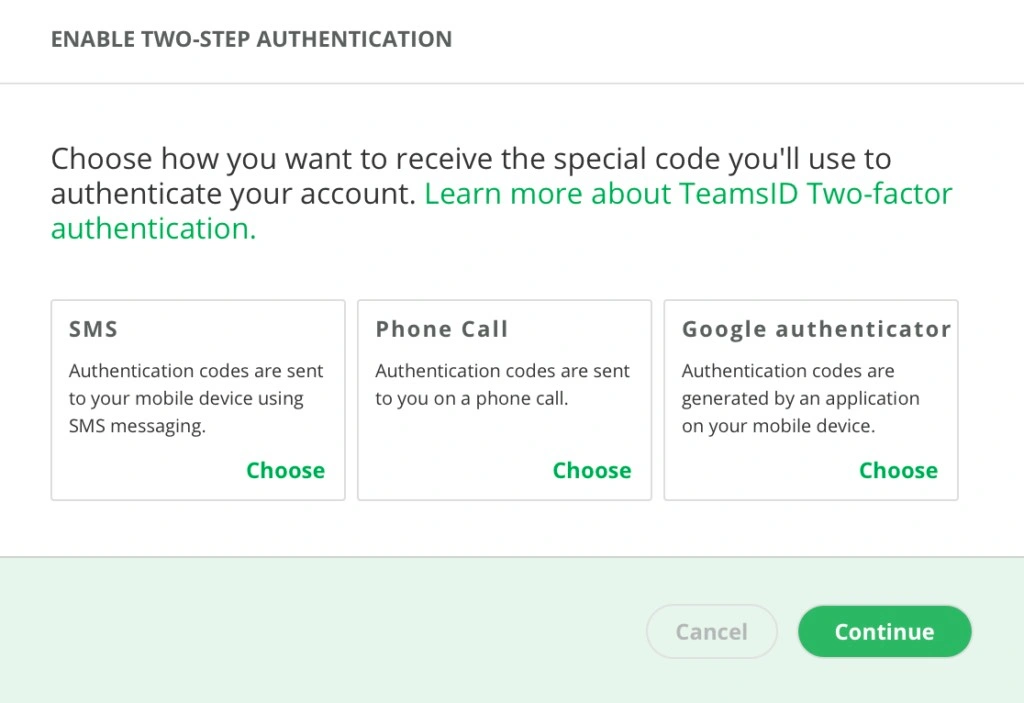 6) Conversations
We've also added new features that help your team collaborate about on a specific record. Now you can have conversations with everyone who has access to the record. For example, you can inform other members if you have made an update to a record and why you changed it. Conversations are linked to the record forever. This means anyone can look back and see a history of the record.

7) Notifications
TeamsID sends you in-app notifications about any activity that is relevant to you, even when you're on the go. You will receives updates of activity if you are a Team Admin or if you're an owner of a record. For example, if another member edits a record you had created, you will be notified. TeamsID notifications are lightweight and in-app only, which means there are no intrusive push notifications or emails.

8) Easier onboarding
It can be a challenge to get an entire team to switch their habits and tools. So, throughout our entire redesign process, we tried to keep this in mind. We made TeamsID more intuitive for new users. The clearer layout and improved navigation help teammates know where to go and what to do first. We added an interactive tour to get new users oriented and ready to collaborate right away. And account settings and team settings are a new hub for your managing your team and providing an unintimidating way to get a bird's eye view of everything going on.

9) Improved performance and powerful search
The new TeamsID is designed to give you a feeling of password nirvana when it comes to quickly looking up your records. Performance is our top priority, and to make this happen the new TeamsID version was completely re-written on all platforms. You will see radically improved performance, especially for if you have hundreds or thousands of records in your account. Hope you enjoy the much speedier TeamsID experience!

The new TeamsID is easy and efficient and helps your team manage and share usernames, passwords and other records as your business grows. The right people always get access to the right records, period.

The new TeamsID is clear. It gives your team focus and we think it will make your team smile. Team members spend less time looking for information, and everyone gets more work done. And of course it helps your organization stay secure.

You can check out TeamsID on web, Android, and iOS today. Updated Mac and Windows apps are coming soon. For further details, explore the all new help center here or write to us [email protected].

We hope you love it!